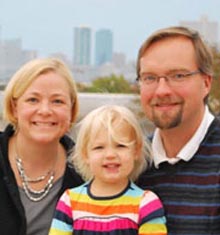 The Rev. Kendra Mohn, '05, is the 2014 alum-in-residence at Luther Seminary. In March, she visited campus for a week to engage with students and faculty in various areas of seminary life. Mohn spoke of what it can be like for alumni who do not have a continued connection like the one she experienced.
"Once you leave Luther, it freezes in your memory and you move on. So when changes happen at the seminary, there can be a sense of grief and loss among alumni. They aren't as involved in what's happening so they lose that heart connection that was tied to a beloved professor who taught them or a building they lived in," she says.
By being on campus in this role, Kendra was able to forge new connections, which she plans to share with fellow alumni. "One role of the alumni council and the alum-in-residence is to invest in what's happening and changing in order to keep alumni connected with the current reality of Luther Seminary," Mohn says. "In this way, alumni can encourage people to come to the Luther of today versus what existed when they were in attendance."
Spending time in the classroom was an opportunity for Mohn to help students consider relationships between what they are experiencing at seminary and what they may find in the parish or other ministries. Nine years of experience meant that Mohn heard familiar lectures in different ways. "Now I see people's faces and stories as I sort through the theological issues. They're not abstract concepts anymore."
It is not only Mohn's perspective that has changed. It was clear to her that the institution has undergone significant transition as well. Certain cultural changes were noticeable to Mohn—the increased use of digital media and online resources for learning, the number of laptops in a classroom and even chapel's incorporation of different liturgies and styles of music. Mohn found herself grateful for both her own experience and these new campus experiences simultaneously.
Mohn also spoke appreciatively of the new teaching styles she witnessed. "I saw cutting-edge teaching innovation and classroom discussion around issues we didn't talk about when I was here. I enjoyed watching students develop their theological and biblical knowledge of contemporary issues that we are facing in congregations."
When asked what messages she hoped to bring back to the alumni council, Mohn was quick to reply. "I want to tell them about the new professors I met and encourage them to watch for their publications. I want to talk about the feelings on campus, how I noticed a sense of forward momentum and an authenticity in addressing issues head on. You can see good work happening. And I want to share how struck I've been by how thoughtful, excited and serious students are. I witnessed a healthy sense of trepidation. You can tell they'll be great by how they approach their course work."
If you've been looking for a reason to visit campus, Mohn is willing to oblige. "It's a great time to come back as alumni. It's fun to experience campus life again and it's exciting to hear people talk about all that is going on. Being back in this environment has been really nice."
Kendra Mohn, '05, is a doctoral student in New Testament at Brite Divinity School. She also serves as co-pastor with her husband, Erik Gronberg '05, at Trinity Lutheran Church near downtown Fort Worth, Texas.
Past Alumni-in-Residence
2013, The Rev. Leland Armbright, '05
2012, The Rev. Kathy Valan, '96
2011, The Rev. Pat Lehrer, '94
2010, The Rev. Greg Van Dunk, '85
2009, The Rev. Mary Hannah Rowe, '75
2007, The Rev. Steve Holm, '71
2006, The Rev. Kathleen McCallum Sachse, '99
2005, The Rev. Steven Wigdahl, '84
2004, The Rev. Jon Lee, Dallas Texas
2003, The Rev. Ron Vignec, Tacoma, Wash.
2002, The Rev. Mark Reitan, Lynwood, Wash.
2001, The Rev. Mary Lou Baumgartner, Toledo, Ohio
2000, The Rev. William Bartlett, Laguna Hills, Calif.
1999, The Rev. Paul Ziese, San Antonio, Texas