Less than 25 years of ministry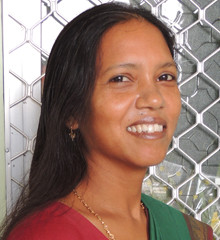 Nijhar Jharia Minz-Ekka is a true pioneer in women's ministry in India and will be an inspiration to women in India for years to come. Her passion for sharing the gospel as far and wide as she can has been a worldwide adventure, from her native northern India, to Minnesota where she completed her Master of Theology at Luther Seminary and her Ph.D. at the University of Minnesota. Minz-Ekka holds the honored distinction of being the first woman to be ordained in her church body and the first woman in the North Western Gossner Evangelical Lutheran Church in North India to earn a Ph.D.
Ministry in northern India is in Minz-Ekka's DNA. She is a fourth generation Christian leader in northern India, a region where the church is still being established and ministry can be dangerous work. A colleague says that "watching the ministry she and [her husband] Neeraj and her parents have dreamed of and brought to reality demonstrates faithfulness to the gospel, and lives filled with faith to purchase property, develop the mission of the school, raise funds and complete a Ph.D., all while raising four children. Her dedication to her faith and work speaks to her commitment to her calling to ministry."
The Christian community in Ranchi, India, led by Minz-Ekka and her family, works not only to build the church and share the gospel, but also to build a Christian seminary to educate the whole community. When developing the mission of the Navin Doman Theological College, they have been diligent to offer holistic programs giving the students opportunities to grow in Christ and serve the entire community by being salt and light. Apart from theological education, students are nurtured to be mentors to children in the neighborhood. As part of this, the school offers English classes, Bible studies, general health information and health clinics.  Plans for the future include community health ministry, trainings for lay ministers and teaching better agricultural practices.  This openness to the community can lead to better understanding and acceptance between diverse religious groups in the community.
Working with women has been a cornerstone of Minz-Ekka's work in India and the United States. During the construction of the theological school, she often intentionally sought out interactions with the women working as laborers. She approached each woman regardless of her faith and asked them to share their stories. By listening to them, she gave them dignity and helped them understand their value and see the importance of their work despite a culture that told them otherwise. This intentional listening helped these women to regard the Christianity she represented with respect. Minz-Ekka has a gift to connect with people in love and openness, making genuine connections and sharing her faith.