Dave Scherer, Contextual Learning Associate
I often find myself at a black-owned barbershop up the street from my house to get my haircut when it is convenient.
Those of you who know about most black barbershops know that it is often one of the hubs of the community. Every time I go I find a wide array of black men gathered to discuss sports, politics, music, and everything else under the sun. Oh, and Charles also does an incredible job of cutting hair there too. One of the first times I was there, we began to discuss whether Kobe Bryant or Lebron James was a better basketball player. Charles became very animated as he challenged another barber named Curtis who was cutting someone else's hair next to him. "You're crazy if you think Kobe's better!" He shouted. Not to be outdone, Curtis started on an expletive-laced rant that left me feeling uncomfortable. They were both yelling louder and louder as they grew angrier with each other. I was certain that they were going to physically fight each other. I wanted to get the heck out of there. Everyone else in the shop was laughing and didn't seem concerned at all. "What am I missing?" I kept wondering.
What I experienced in the barbershop that day was a difference in cultural conflict styles. Having grown up in a less direct, less expressive culture, I was not able to see the nuance in the situation that everyone else seemed to be picking up on. In his book "Black and White Styles in Conflict"[1], Thomas Kochman explores the concept of "woofing" that is often present in black culture. Woofing is a rhetorical device when people are challenging one another but it is not an actual threat. Those without a frame of reference (like me in the barbershop) may misinterpret this and not know the non-verbal cues that are happening. What if we engaged curiosity around this instead of immediately placing a value judgment on it?
If we want to model God's love for all people, it is imperative that we be aware of our own conflict styles and adapt our own behavior to build bridges across differences. So, what is your conflict style? Are you more direct or indirect? Are you more restrained or expressive? The Intercultural Conflict Style Inventory is an assessment that you can take to determine what your conflict style is. I encourage you to take it with your team. While our conflict styles are culturally informed, we can vary greatly within our groups. The next time you feel 'yelled at" in a meeting, maybe you could keep this framework in your mind and be sensitive to different ways of showing up in conflict. The next time someone voices displeasure about something to you less directly, maybe you could pick up on the subtle gradations of their emotions and respond compassionately.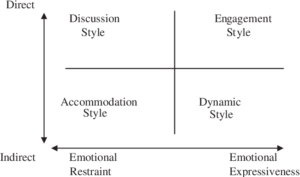 Above: Mitchell Hammer's 2003 Intercultural Conflict Style Inventory
I want everyone to keep this Intercultural Conflict Style framework in their minds as they move through the world. What if couples identified their conflict styles together? What if churches and organizations who were trying to diversify their members and staff were mindful of this? What if police officers were trained in this (and thank goodness some departments are!)? The stakes are very high for this work. The integrity of our witness can falter if we begin to impose our cultural ways of being onto our savior. Jesus expressed anger. He wasn't just here to "be nice" in the ways that are culturally acceptable to white Americans. It is dangerous when we send the implicit message that expressiveness is unwelcomed. We serve a God who meets us where we are and who figures out how to speak to us in our own cultural language. We are called to do the same with our neighbors.
Recently, I went back to visit Charles at the barbershop. I saw Curtis and one of the other barbers starting to go after each other again, this time about music. There was some intense debate. There was some shouting. I took a deep breath I thought about this Intercultural Conflict framework. Charles and I laughed together while he cut my hair. "They're just woofing" he said.
[1] Kochman, Thomas. "Black and White Styles of Conflict". University of Chicago Press. Chicago, 1981.