As I sat down to write an article for this month's newsletter (in the midst of a pandemic), the topic that came to mind was leading with a non-anxious presence.  It seemed to me that a brief lesson in family systems would be a welcome reminder of the cornerstone of enduring leadership in challenging times.  And, although that is a fitting topic, and one I hope you'll consider in your current reading lists (like Family Systems and Congregational Life: A Map for Ministry by R. Robert Creech or the classic Murray Bowen and Edwin Friedman texts), I began to reflect further on some of the conversations I'm having with our interns and their supervisors, and the topic took a turn in a different direction: conflict.
How do we journey together through difficult times and tend to the inner-workings of staff conflict and tension within our leadership circles?  If we are honest – and those of us in the upper Mid-West sometimes don't want to acknowledge it – conflict is a natural part of our life together in community.  We should not be surprised that a global pandemic provokes differences of opinion and understandings of what prudent measures look like.  It is a painful and trying time to sift through regulatory guidelines and interpret them appropriately for our settings.  Sometimes, we land on different sides of an issue.
Perhaps you have seen some of the diagrams for conflict styles.  Do you know your innate style for engaging moments of relational conflict?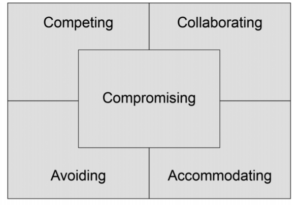 These five styles of Conflict developed by psychologists' Thomas and Kilmann, give us a glimpse of the ways that we often communicate with others when there is a difference of opinion or understanding.  Discussing our motivations and conflict styles alone is a worthy use of time and energy during an internship year.  In my opinion, it can serve both the intern and the supervisor well to test out their understandings as they face something as complex and challenging as leading in a pandemic.  Another tool that contextual learning has shared in various trainings over the years is the pinch theory, and for this helpful tool and exercise, I encourage you to go here to explore with your Supervisor/Intern as a place to practice difficult yet important conversations.
Opportunity awaits:
In the midst of these lifelong lessons in relational conflict and leadership, we are finding that there are key opportunities to explore new terrain for public ministry.  Stories of Advent care packages being assembled by the hundreds proliferate Facebook as congregations seek to find ways to connect with their communities during this time.  Food shelves and warm take-out meals continue to serve the food insecure in many of our local congregations' recent ministry offerings.  Right here at Luther Seminary, our leadership is in conversation with County officials as we explore utilizing a vacant dorm as a shelter for the homeless persons in our midst.  Story after story of innovative student creating new pathways for online community in their internship congregations pour in, and for this we are thankful.
Internships and fieldwork are designed to be a time of learning highlighted by the embodied skills of listening to understand and bringing an informed sense of humility that is, on occasion, willing to be wrong.  As T.S. Eliot has said, and I paraphrase, "Everyone gets the experience, some get the lesson."  Blessings as you seek to work together in challenging times, practicing listening, learning, and conflict resolution faithfully.
Yours in Christ,
The Rev. Tim Coltvet
Director of Contextual Learning