13 That same day Jesus went out of the house and sat beside the sea. 2 Such great crowds gathered around him that he got into a boat and sat there, while the whole crowd stood on the beach. 3 And he told them many things in parables, saying: "Listen! A sower went out to sow. 4 And as he sowed, some seeds fell on the path, and the birds came and ate them up. 5 Other seeds fell on rocky ground, where they did not have much soil, and they sprang up quickly, since they had no depth of soil. 6 But when the sun rose, they were scorched; and since they had no root, they withered away. 7 Other seeds fell among thorns, and the thorns grew up and choked them. 8 Other seeds fell on good soil and brought forth grain, some a hundredfold, some sixty, some thirty. 9 Let anyone with ears[a] listen!"-Matthew 13:1-9
Over the past 8 months, my social media feed has become so polarized that it has felt overwhelming at times for me to know how to engage in constructive dialogue. How do I maintain my own views while compassionately communicating with my friends who are in different places than I am regarding issues of oppression and justice? How do I "move the needle" effectively to catalyze the shift toward a more inclusive world that God desires? These are hard questions for many of us Christian public leaders.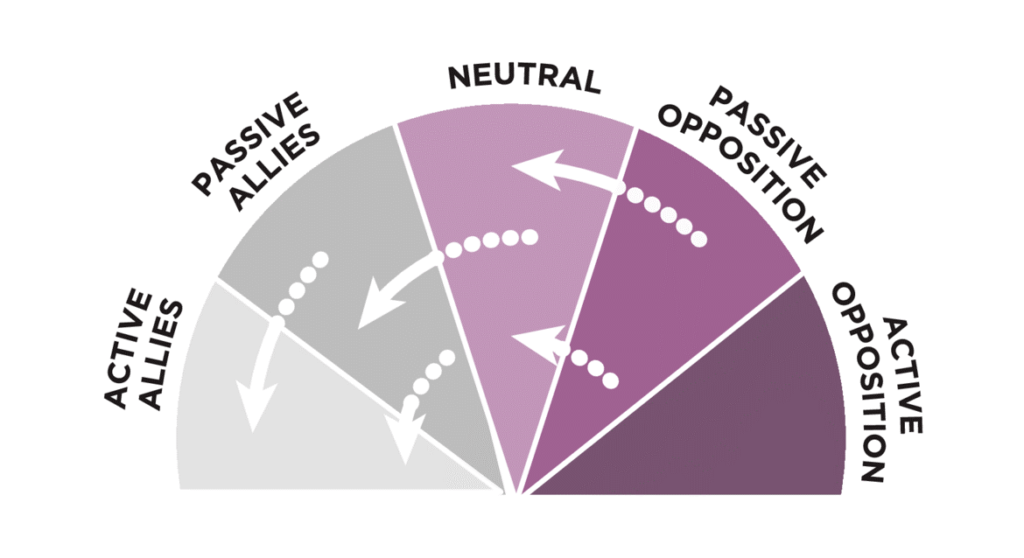 I discovered a framework from George Lakey and Martin Oppenheimer that has been helpful for me recently called "The Spectrum of Allyship". This model acknowledges that human growth often happens through a step-by-step process. Understanding this spectrum helps us clarify our objectives for engaging with others around these issues. Here is the model:
I will go through each step and how we might engage each one as well as naming the next developmental step for each group: 
This is the group that often resists your message with little desire to change. No matter how much you try to water the soil of the seeds that you are planting with relationship-building and patience, the thorns of their own fear continue to choke out those seeds. Unfortunately, they may also try to choke out the growth of others as well. This can be so frustrating as a leader! Many leaders spend 90% of their time, energy, and effort into trying to please and appease this group. Yes we are called to be a pastor to all of our people, but we are not called to be a doormat or a martyr. What the parable of the sower reminds us is that the sower can't always control the soil on which the seed will fall. Our job is to proclaim God's liberating Word for all people and trust in its power, not to get everyone to like us or control how it is received. The Spirit will determine which parts of the soil will be ready to nurture the seed. If someone is actively questioning the dignity of people with marginalized identities in ways that are harmful to you and those you love, you may need to figure out how much energy should be expended on these conversations.
Next Developmental Step for Active Opposition: Passive Opposition
This is the group that may disagree with the message that is preached, but will be much less vocal than the active opposition. While the seeds of God's liberating love may not flourish on this "rocky soil", they will not be as passionate about choking out the seed that has been planted in others. With the right stirring of the Spirit and accompaniment, this group can move from being passively opposed to your message, to becoming "neutral". While neutrality may not seem ideal, having people in your congregation go from questioning the need to affirm the  dignity of people with marginalized identities to no longer questioning it is a big "win". You never know how your explicit mention of God's affirmation for LGBTQIA+ or BIPOC siblings could shake loose the dry and hardened soil of their hearts and plant the vision of God's inclusive diverse kin-dome.
Next Developmental Step for Passive Opposition: Neutral 
Neutral
This group can be one of the most frustrating to work with in a congregation. When the active opposition complains and engages in conflict during a church council meeting, at least you know they are engaged. For people who have chosen neutrality, they are comfortably accepting life as it is and being complicit in systems of oppression that harm others. As Desmond Tutu says, "If you have chosen neutrality during situations of injustice you have chosen the side of the oppressor." It is frustrating when seeds have been planted with receptive soil, good sun, plenty of watering, and yet there has still not been any fruit that has been produced by those who remain neutral. How can you educate and activate the neutral crowd so that they are made aware of oppressive systems and motivated to advocate for God's justice? As Maya Angelou once said, "When you know better, do better." We pray that once people are exposed to the marginalization of God's beloved, that they will indeed be moved to become allies in this work.
Next Developmental Step for Neutral: Passive Ally
Passive Ally
We may have parishioners who are aware of the biblical mandate to be "repairers of the breach", but who are immobilized for a number of reasons. We have to figure out what is needed for this group to build a culture of allyship. What does Christ-centered allyship look like? Feel like? Sound like? Oftentimes allyship can be isolating. How do we connect with others who are doing this work? How do we look for models throughout history from our cloud of witnesses? How do we identify small plants growing in our congregation and community that just need a little bit more water and sunshine? Once there is a whole ecosystem that has been created in our communities, a few dissenting "thorns" can no longer choke out the fruits of justice that are growing. How can we help construct trellises and facilitate growth for those baby plants sprouting up in our midst? According to organizers, passive allies are the place where there is the most opportunity for growth ("fertile soil" if you will). Maybe this is where 90% of our efforts should go. Once we prepare this soil, water these seeds, and help build an ecosystem to nourish growth from this group, no thorn will be able to choke them out. This will be the group that will carry this important work forward of dismantling racism and building beloved community as they become active allies.
Next Developmental Step for Passive Ally: Active Ally 
Active Ally
According to Jesus' parable in Matthew, there were some seeds that ended up producing hundredfold the amount that had been planted. For those who have truly been activated with the power of the Holy Spirit working in them, we can rest in this promise that it was not the sower who produced all of this grain, but God alone who provides the growth. If we remain faithful to courageously proclaim a word of truth with love to our communities, God promises that this word will not come back void. Yes, there may be moments of frustration where we wonder if we are being effective. There may be moments where we do not see any fruit, and yet we trust that God is working. We believe that we will live deeper into God's promise of a great multitude from every nation, tribe, and language worshipping together in the New Creation (Rev. 7:9). It is this promise that propels us forward in this work. You do not do this work alone. You have a great cloud of witnesses that have gone before you. You have a community around you that has also been caught up in the Spirit's movement. And you have God guiding you, nourishing you, and empowering you. May you continue to hear this call deep inside of you. And, "let anyone with ears, Listen!" Amen.