"We, They, and All in Paul's Letter to the Romans"
April 10, 2018, lecture by Beverly Roberts Gaventa

North American society is becoming increasingly fractured, and faith communities are not immune from the effects of these deepening divisions—both within and beyond the borders of traditional religious institutions. But what if the Bible has something to say about this moment of fragmentation? Join renowned New Testament scholar, Dr. Beverly Roberts Gaventa, as she explores Paul's most famous letter—Romans—and how his use of words like "we" and "they" might prove surprisingly helpful in our polarized context.
Beverly Roberts Gaventa
Distinguished Professor of New Testament, Baylor University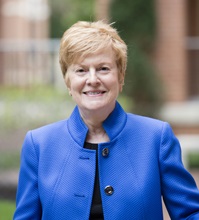 Professor Emerita of New Testament, Princeton Theological Seminary
Beverly Roberts Gaventa joined the Baylor faculty in 2013. She previously taught at Princeton Theological Seminary, Columbia Seminary, and Colgate Rochester Divinity School. She has been active in a number of professional societies, including Studiorum Novi Testamenti Societas, the Society of Biblical Literature, and the American Theological Association. She has served on a number of editorial boards and lectured widely in the United States, Canada, Europe, South Africa, and Australia.