Education
Ph.D. (Luther Seminary)
M.Div. (Yale University)
Biography
Dwight Zscheile joined the Luther Seminary faculty in 2008 as assistant professor of Congregational Mission and Leadership and was promoted to associate professor in 2014 and full professor in 2022. He has also served as vice president of innovation since 2018, where he oversees Faith+Lead, Luther Seminary's learning and leadership development ecology alongside the degree programs. He received a Bachelor of Arts degree with distinction from Stanford University, Calif., in 1995, having also attended Oxford University, and a Master of Divinity degree from Yale Divinity School, New Haven, Conn., in 1998. He completed the Doctor of Philosophy degree at Luther Seminary with a focus on congregational mission and leadership in 2008.
Zscheile is the author of Leading Faithful Innovation: Following God into a Hopeful Future (with Michael Binder and Tessa Pinkstaff, Fortress Press, 2023), Participating in God's Mission: A Theological Missiology for the Church in America (with Craig Van Gelder, Eerdmans, 2018), The Agile Church: Spirit-Led Innovation in an Uncertain Age (Morehouse Publishing, 2014), People of the Way: Renewing Episcopal Identity (Morehouse Publishing, 2012) and The Missional Church in Perspective (with Craig Van Gelder; Baker Academic, 2011). He is the editor of Cultivating Sent Communities: Missional Spiritual Formation (Eerdmans, 2012).
His essays and articles include "Cultivating the Spirit's Leadership in Congregational Life" in Edwin Van Driel, ed., What is Jesus Doing? Divine Agency in the Life of the Church and the Work of the Pastor (forthcoming, IVP Academic), "Disruptive Innovations and the Deinstitutionalization of Religion." Journal of Religious Leadership, 14, no. 2 (Fall 2015), "From Establishment to Innovation: Rethinking Structure in a New Apostolic Age" in What Shall We Become: The Future and Structure of the Episcopal Church (Church Publishing, 2013), "Christian Biblical Understandings of Leadership" in The Sage Handbook of Religious Leadership (Sage, 2013), "A More True 'Domestic and Foreign Missionary Society': Toward a Missional Polity for the Episcopal Church" in The Missional Church and Denominations(Eerdmans 2008), "The Trinity, Leadership, and Power" (Journal of Religious Leadership 6, no. 2 (Fall 2007)), "Beyond Benevolence: Toward a Reframing of Mission in the Episcopal Church" (Journal of Anglican Studies 8, no. 1, 2010), and "Social Networking and Church Systems," Word and World Summer 2010. He has also contributed to Faith+Lead, WorkingPreacher.org and Leading Ideas, an online publication of Wesley Theological Seminary. Zscheile's doctoral thesis, "Reframing Mission," focused on a large-scale action-research intervention into a mainline denominational judicatory that mobilized grassroots members to address challenges of decline, crisis, and renewal.
Zscheile was ordained in The Episcopal Church in 2005 and has served on mission and leadership task forces in the Dioceses of Minnesota and Virginia. He served on the Task Force for Reimagining the Episcopal Church. Before coming to Luther, Zscheile was executive pastor at St. David's Episcopal Church, Ashburn, Va. He served part-time as associate priest at St. Matthew's Episcopal Church in St. Paul from 2005-2018. Zscheile has been involved in leadership roles in congregations in Connecticut, Virginia, and Minnesota. He has consulted extensively with congregations, judicatory systems, and institutions of higher education on innovation, leadership, and adaptive change.
Zscheile is a past editor of the Journal of Religious Leadership, where he continues to serve on the editorial board. He is a past board member of the American Society of Missiology and Word and World journal.
He was named a Marquand Scholar at Yale Divinity School (1995-8), a Lewis Fellow at Wesley Theological Seminary (2005-6) and was awarded the David and Martha Tiede Fellowship from Luther Seminary (2006-7).
Featured Work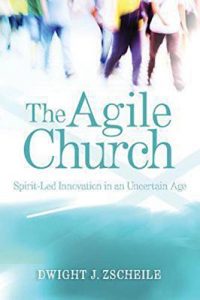 The Agile Church: Spirit-Led Innovation in an Uncertain Age
Morehouse Publishing (November, 2014)
In today's dynamic cultural environment, churches have to be more than faithful—they have to be agile. That means embracing processes of trial, failure, and adaptation as they form Christian community with new neighbors. And that means a whole new way of being church. Taking one page from the Bible and another from Silicon Valley, priest and scholar Dwight Zscheile brings theological insights together with cutting-edge thinking on organizational innovation to help churches flourish in a time of profound uncertainty and spiritual opportunity. Picking up where his recent bestseller, People of the Way left off, Zscheile answers urgent and practical questions around how churches become agile and adaptive to meet cultural change.