Equipping church leaders around the world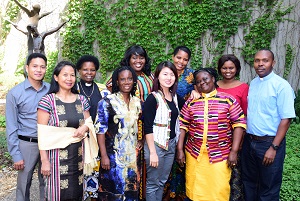 Luther Seminary is blessed with students from many parts of the world. This diverse community of many traditions, ethnicities and ages is united by a deep faith in Jesus Christ. Together, seminarians study, serve, worship and pray to better equip themselves to minister to God's world.
The Office of International Student and Scholar Affairs (ISSA) is committed to providing international students the best experience while at Luther Seminary.
Application process
Luther Seminary welcomes applications from international students who want to apply directly to Luther Seminary. Applicants whose church is a global companion of the Evangelical Lutheran Church in America (ELCA) and who are interested in financial support from ELCA Global Mission should submit a separate application to ELCA Global Mission by Oct. 15 of the year prior to enrollment.
Housing
Luther Seminary is committed to providing you with housing options and assisting you with your initial adjustment. There are a limited number of on-campus, furnished dormitory rooms available for individual students.
Financial aid
Luther Seminary works together with the ELCA Global Mission and companion national churches to determine priorities for financial aid.
International applicants who are Lutheran are advised and encouraged to apply for an ELCA International Leaders Program scholarship through their national (home) church body to ELCA Global Mission. The application form must be submitted by Oct. 15 the year before a student intends to enroll.
For those international applicants requesting financial aid from Luther Seminary, information and forms will be sent to you after an admission decision is made. Financial aid is usually limited to tuition support.
Student life
Luther Seminary's international students are just some of the students who make up the ecumenical and diverse student body.
While your main point of contact at Luther Seminary is the Office of International Students and Scholar Affairs, you are encouraged to engage fully with the entire seminary community. You can serve on Student Council or in student groups, participate in worship services and community events, apply for an on-campus job, and so much more!
International Student and Scholar Affairs (ISSA)
The ISSA Office:
serves as the primary contact for all international applicants, assisting students with application requirements and financial solvency documents. The ISSA also reviews, verifies and evaluates the accreditation and/or degree of foreign academic credential;
assists in identifying and coordinating financial resources and administering scholarship funds for all international students;
provides relevant services and support for international students and scholars at Luther Seminary;
leads the seminary in compliance with U.S. Federal regulations as they relate to international students/scholars who come to study, research, teach, relate and work at the seminary;
provides leadership for the international efforts of the seminary.
Contact us
Mailing address
International Student and Scholar Affairs
Luther Seminary
2481 Como Avenue
Saint Paul, MN 55108   USA
Email: iss@luthersem.edu
Ph: (+1) 651-641-3469
Fax: (+1) 651-641-3274