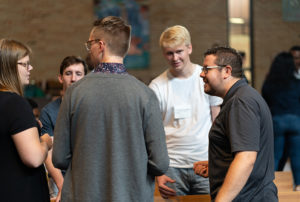 Interested in attending Luther Seminary? This weekend is designed to help you discern your call to Christian public leadership, share your stories, learn about our programs, and get a glimpse at life on campus.
This event is offered twice each year, once in the fall and once in the spring. Spaces are limited.
Example schedule
Here is the schedule for our previous Discernment Weekend, to give you an idea of what to expect.  This is for example purposes only and should not be taken as an accurate schedule for the March 2019 event. We will post the new schedule once it is ready.
Day 1
2:30 p.m.
Check in and Registration
3 p.m.
Welcome and Introductions
3:30 p.m.
Tour/Scavenger Hunt
4:30 p.m.
Discernment Conversation
 5:30 p.m.
Holden Evening Prayer Worship
 6 p.m.
Leave for Minneapolis for dinner
 6:30 p.m.
Dinner in Minneapolis
 8:30 p.m.
Return to Campus for evening activities
Day 2
8 a.m.
Breakfast with Student Affairs
9 a.m.
Conversations with the faculty
11 a.m.
Chapel
11:30 a.m.
Lunch and conversations with contextual learning
1:30 p.m.
Class
 3 p.m.
Programs overview
 3:30 p.m.
Sending and Blessing