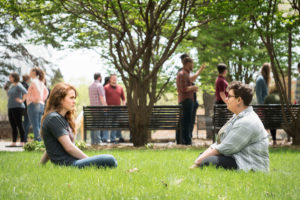 Students come to Luther Seminary with an array of interests that stretch beyond the classroom. From working on justice-related issues to writing for Luther's student publication to getting your hands dirty in the soil, we have a group for you. And if we don't? Then start one yourself! Luther Seminary strives to provide a supportive atmosphere for student's interests and passions.
Below is an overview of some of the students groups that have been active on campus in recent years (and perhaps can be an inspiration for the type of groups you might begin). Current student can access more details information and meeting schedules on MyLutherNet.
Community Food Shelf
The community food shelf is open at regular times throughout the week. Food can be dropped off at any time in the Olson Campus Center, the library, or outside the Student Services office. Contact communitylife@luthersem.edu if you have any questions.
The Concord (student newspaper)
The Concord is a student publication with the mission of giving space to be heard to a variety of voices on campus, students, families, staff and faculty alike. Each month issues are centered around particular topics and designed by the volunteer staff of the Concord. We each have our particular jobs, but the publication is run communally and with equal contributions from all members.
Dismantling Racism: Beloved Community (DRBC)
Dismantling Racism: Living into Beloved Community (DRBC) invites the community of Luther Seminary into conversation regarding the ongoing legacy and reality of racism both in this country and globally. Inspired by Dr. Martin Luther King, Jr.'s vision of "beloved community" we seek to provide a safe space in which we can live with one another, listen to one another, and love one another across cultural, religious, racial and socioeconomic barriers. Drawing on Genesis 1:27 we seek to affirm the radical equality of all humanity on the grounds that all of humanity was created in the image of God.
Emmaus
Emmaus is a student group offering support to those who identify as LGBTQQIAA (an alphabet-soup acronym that includes those who identify as lesbian, gay, bisexual, transgender, queer, questioning, intersex, asexual AND allies). Additionally, Emmaus presents educational opportunities for the entire Luther Seminary community regarding LGBT people and issues. Like the disciples on the road to Emmaus, we seek to walk and talk together on a journey towards a greater understanding of God and of ourselves.
Exploring Diakonia
Exploring Diakonia is a gathering of students, leaders and others interested in exploring the intersection of church, world, and service, especially as embodied in the Word and Service rosters of the ELCA — Associates in Ministry, Diaconal Ministry, and the Deaconess Community.
Heretics Softball team
The Luther Seminary Heretics Softball Team is a group that promotes fun and fellowship through the sport of softball. All skill levels, from beginner to pro, are welcome.
Noncord (satirical student newspaper)
The Noncord is Luther Seminary's number one satirical newspaper. One of the features that sets apart our paper from the rest of the papers is that we exist. You cannot say the same about our competition.
The ReCharge
A safe place where the minortized can go to Reward, Refocus & Recharge.  A safe place to be open and real in a healthy manner without penalty.  A place where students can discuss our differences in theological views and culture.
Student Council
Student Council is a student organization that advocates through a number of programs for better community and student life at the seminary. We meet monthly to discuss and take action on matters of importance to the community.
Among other things, Student Council sponsors campus-wide events and through its Students-for-Students program disperses funds to Luther Seminary Students to help cover enrollment fees for conferences and other extra-curricular education.
VOCA
VOCA's mission, led by the Triune God and by the Gospel, is to love our neighbor by creating a space at Luther Seminary and within our community that seeks justice as an integral part of Christian vocation. Opportunities to participate in VOCA include regular meetings, service projects, community engagement activities, Bible studies, prayer vigils, focus groups and more.