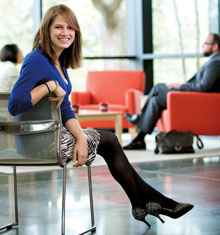 The Office of Financial Aid provides students with the financial resources necessary to achieve their educational goals. Luther Seminary provides more than $2.2 million in financial aid to students each year. On average, a student receives $6,985 in scholarships and grants from Luther Seminary.
We are committed to providing accurate, responsive and respectful service to students. We administer grants and scholarships as well as federal and institutional loans in accordance with applicable policies and regulations while striving to be an innovative and service-minded department.
Steps to Apply
Be admitted to a degree program.  Graduate Certificate students, Auditors and Non-degree students, including Affiliates, are NOT eligible for student loans.
Free Application for Federal Student Aid (FAFSA): For anyone considering student loans, the FAFSA is required. We encourage all students to complete the form, even if not initially considering student loans. As part of the FAFSA, you will be asked to provide the school code of the school(s) that you would like to receive your FAFSA information.  Luther Seminary's federal school code is G02357.  You are advised to complete and submit your applicable federal taxes to the IRS before completing your FAFSA.  No action is taken on a FAFSA with a tax status that is not completed and filed.
Luther Seminary Financial Aid Application: This is an online application. Only admitted students will be able to complete this step. Directions regarding completion of this form will be provided to admitted students after a financial aid file has been established.  A financial aid file will be established when a completed FAFSA form has been received in our office electronically from the Department of Education. Alternatively, an admitted student may send an email to finaid@luthersem.edu and request to have a file started.
Dates and deadlines
Prospective students are encouraged to fill out a FAFSA form as soon as possible.  Students admitted to a degree program must also complete the Luther Seminary Financial Aid application as soon as possible. Deadlines vary for the various grants and scholarships we offer. Please see individual award descriptions for specific dates and deadlines.
Eligibility
In order to be eligible to apply for financial aid you must meet the following criteria:
Be in good academic standing.
Meet minimum courseload guidelines for the various aid types as follows:
| | | |
| --- | --- | --- |
| Financial aid | Degree programs | Minimum requirements |
| Federal Direct Unsubsidized/Grad PLUS Loans | M.Div., M.A., Th.M.,  Ph.D. | 1.5 courses per semester, internship or CPE |
| Federal Perkins Loan | M.Div., M.A. | 1.5 courses per semester, internship or CPE |
| Luther Mourer Loan | M.Div., M.A. | 1.5 courses per semester, internship or CPE |
| Th.M Scholarship | Th.M | Acceptance in the program – First year only |
| Graduate Aid | Ph.D., D.Min. | Acceptance in the program |
 Taxes
Scholarships are tax-free when:
you are enrolled in a degree program;
the funds are being used to cover required costs for your courses: tuition, fees, books, supplies, and equipment.
If the total amount of your scholarships in a calendar year exceeds the total amount of these costs, the excess amount is taxable income.
It is your responsibility to determine your taxable status. For more information, contact the IRS at 
irs.gov
 or (800) 829-1040, or a tax professional. You can also review 
IRS Publication 970 – Tax Benefits for Education
 on the IRS website, which details scholarships and taxes.