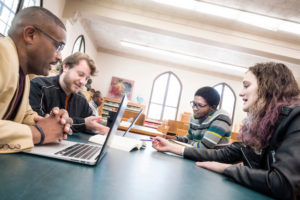 One of the great assets of Luther Seminary is its dynamic student body. Diverse, ecumenical, and engaging, students of all ages, work backgrounds and life stories literally come from all over the world to learn at Luther.
Luther is a seminary of the Evangelical Lutheran Church in America (ELCA) which is "anchored and animated by a Lutheran confessional witness" and is "grounded in a theology of the cross that offers hope". ELCA Lutherans and students, staff and faculty from 35 other Christian faith traditions play an integral role in this community of learning. We see diversity as an opportunity and blessing through which students and faculty challenge one another and develop deeper faith.
Whatever your story is, Luther Seminary welcomes you wholly and completely, ready to help you discern more deeply to what and where God is calling you.
Students enrolled at Luther Seminary (Fall 2022)
Enrollment by degree program
61%    Master of Divinity
29%   Master of Arts
7%     Advanced Degrees (Ph.D. and Th.M.)
3%     Non-degree and Graduate Certificate
Distributed Learning
165    students are enrolled in the M.Div. (DL) degree program
76     students are enrolled in the M.A. (DL) degree program
Denominational makeup
71%     ELCA-identified
29%    Ecumenical, representing 35 denominations and traditions
International students