Education
Ph.D. (Emory University)
M.Div. (Luther Seminary)
Biography
The Rev. Karoline M. Lewis is the Marbury E. Anderson Chair in Biblical Preaching at Luther Seminary and she previously taught at Candler School of Theology, Columbia Theological Seminary, and Augsburg College.
Lewis is the author of SHE: Five Keys to Unlock the Power of Women in Ministry (including an accompanying facilitator guide, participant guide, and DVD) and John: Fortress Biblical Preaching Commentaries, as well as numerous articles for The Christian Century, Feasting on the Word, Feasting on the Gospels, Currents in Theology and Mission, Lutheran Forum, Word & World, Abingdon Preaching Annual, and Odyssey Network's ON Scripture. She was one of the 100 religious scholars in the United States to contribute to the Values and Voices Campaign.
Ordained in the Evangelical Lutheran Church of America, Lewis holds degrees from Northwestern University (B.A.), Luther Seminary (M.Div.), and Emory University (Ph.D., New Testament Studies and Homiletics). She has served as Treasurer of Academy of Homiletics and Regional Coordinator for the Upper Midwest Region of the Society of Biblical Literature.
Lewis is a regular preacher/presenter at the Festival of Homiletics and leads conferences, workshops, and retreats internationally on the Gospel of John, the New Testament, interpreting the Bible, preaching, leadership, and women in ministry. She is a contributing writer for Working Preacher, author of the site's Dear Working Preacher column, and co-host of the site's weekly podcast, Sermon Brainwave. Visit karolinelewis.com for resources on preaching and being a woman in ministry.
Featured Work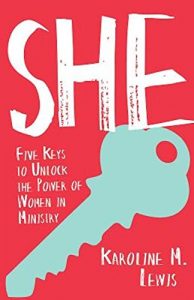 She: Five Keys to Unlock the Power of Women in Ministry
Abingdon Press (May 2016)
We are not all the same. The time has come for us to honestly name the ways we are different and similar so that we can serve together in unity, grace and trust. Women in ministry experience unique challenges in their church settings which continue to hinder their vocational, professional, and personal success. Women in ministry need a trusted and comprehensive resource not only to be able to survive but to thrive in their places of call. She provides theoretical, theological, and practical frameworks and strategies for flourishing as a woman in ministry and engages critical reflection on the practice of ministry in light of current feminist theory, biblical interpretation, and experience. Covering everything from biblical arguments for and against women in the church to what not to wear, this book offers background information and tools for negotiating the many and varied issues that woman in ministry face, including leadership, the authority and office of the clergy, and structures and power in the church. A trusted and comprehensive resource for women in ministry, equipping them to thrive in their places of call, and for the men who serve alongside them.
She: Five Keys to Unlock the Power of Women in Ministry