Education
Luther College, B.A. (1979)
Yale University, M.Div. (1982)
Luther Seminary, Th.D. (1992)
Profile
I like to think of myself as a parish pastor at heart.  I spent almost ten years (1984-93) as a pastor at Cross of Glory Lutheran Church in Brooklyn Center, Minnesota.  It was a rich experience, full of struggle and joy.  Even today as a teacher I try to keep one eye on the parish pastor or lay leader when I talk about the Reformation or a theological topic.  One of my favorite things to do is to visit congregations and lead adult forums.  I do not want my scholarship to be divorced from the "real world" of the parish.
I retired in 2020 after twenty-five years of teaching at Augsburg University.  That also was a good experience.  I learned much from my Auggie students and colleagues.  Following my "retirement" I was offered a full-time position in Reformation history and theology at Luther Seminary.  My academic interests are in Reformation sacramental theology and Luther's doctrine of vocation in particular.  I look forward to introducing my students to the crazy idea that Luther picked up from Paul: God's love for the unlovable.
Partial List of Speaking topics:
The Black Plague and Covid: Lessons for Today
Religion and Politics: Why We Get It Wrong and How To Get It Right
Martin Luther and the Called Life
Luther on Baptism
Luther on the Lord's Supper
Nazis and Christians
The Reformation in Seven Objects
An Explosive Wedding: the Monk and the Nun
Religion Is Not About Laws and Rules
Augustine: Looking For Love in All the Wrong Places
Featured Work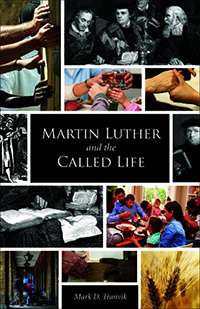 Martin Luther and the Called Life
Fortress Press (2016)
One of the hallmarks of Luther's theology was its concern for daily life. In the midst of debates about justification and salvation, church authority, and the Lord's Supper, he bore a deep concern for daily Christian life.
In this refreshing book, Mark D. Tranvik looks at the importance of vocation in Luther's own life and in doing so discovers renewed insights into this important doctrine.
Vocation, the called life, is a way of understanding that all of life is under the care and interest of God. All of our activities as a spouse, parent, child, worker, citizen, and church member are a part of a called life.