Education
Ph.D. (University of Chicago Divinity School)
Cert. Studies (Lutheran School of Theology at Chicago)
M.Div. (Yale University Divinity School)
Biography
Mark A. Granquist is Professor of the History of Christianity at Luther Seminary, a position he has held since 2007. Prior to this he taught in the Religion Department at St Olaf College, Northfield, Minnesota (1992-2000) and at Gustavus Adolphus College, St Peter, Minnesota (2000-2007).
Granquist has served in parish ministry or Lutheran higher education since his ordination in the Evangelical Lutheran Church of America in 1988. He was pastor of youth and education at Bethel Lutheran Church, Rochester, Minn., 1988-1992, and has served several times as an interim pastor in local congregations.
A 1979 graduate of St Olaf College, Granquist received his M.Div. from Yale University Divinity School in 1984, and his Ph.D. degree from the University of Chicago Divinity School in 1992.
He serves as editor of the Luther Seminary journal "Word & World," as editor of the "Journal of the Lutheran Historical Conference," and has been active with the journal "Lutheran Quarterly."
His publications include "Lutherans in America: A New History" (Fortress, 2014), "Scandinavian Pietists: Spiritual Writings from 19th-century Norway, Denmark, Sweden, and Finland" (Classics of Western Spirituality, 2015), and "The Augustana Story: Shaping Lutheran Identity in North America" (Fortress, 2008). He is one of the editors of the "Dictionary of Luther and the Lutheran Traditions" (Baker Academic, 2017) and the author of many book chapters, articles and essays, especially on the history of Lutherans in North America.
Featured Work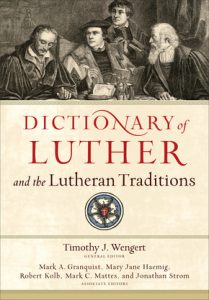 Dictionary of Luther and the Lutheran Traditions
Baker Academic (Sept. 2017)
In the five hundred years since the publication of Martin Luther's Ninety-
Five Theses, a rich set of traditions have grown up around that action and the subsequent events of the Reformation. This up-to-date dictionary by leading theologians and church historians covers Luther's life and thought, key figures of his time, and the various traditions he continues to influence.
Prominent scholars of the history of Lutheran traditions have brought together experts in church history representing a variety of Christian perspectives to offer a major, cutting-edge reference work. Containing nearly six hundred articles, this dictionary provides a comprehensive overview of Luther's life and work and the traditions emanating from the Wittenberg Reformation. It traces the history, theology, and practices of the global Lutheran movement, covering significant figures, events, theological writings and ideas, denominational subgroups, and congregational practices that have constituted the Lutheran tradition from the Reformation to the present day.