Education
Th.D. (Harvard Divinity School)
Certificate of Studies (Lutheran School of Theology at Chicago)
M.T.S. (Harvard Divinity School)
J.D. (Harvard Law School)
Biography
Mary Jane Haemig, Professor of Church History, joined the Luther Seminary faculty in 1999. She had been Assistant Professor of Religion at Pacific Lutheran University in Tacoma, Washington, from 1994-1999.
Haemig completed her Doctor of Theology (Th.D.) at Harvard Divinity School in 1996 with a dissertation titled "The Living Voice of the Catechism: German Lutheran Catechetical preaching 1530-1580." She graduated magna cum laude from the University of Minnesota with a Bachelor of Arts degree in 1977, and received both a master of theological studies (M.T.S.) from Harvard Divinity School and a doctor of jurisprudence (J.D.) degree from Harvard Law School in 1981. She worked as an attorney in Illinois from 1982-1989, before commencing doctoral studies at Harvard.
Haemig is a specialist in Reformation studies, particularly the study of the Lutheran Reformation. Her interests include preaching, catechesis, and prayer in that period. She teaches courses related to the Reformation and participates in teaching the Lutheran Confessional writings. She is also Director of the Reformation Research Program at Luther Seminary. Haemig has made many scholarly presentations, numerous church presentations, and has written many articles and book reviews. She is associate editor and book review editor of "Lutheran Quarterly," is associate editor of the "Dictionary of Luther and the Lutheran Traditions,"is a member of the continuation committee for the International Luther Research Congress and participates in other scholarly organizations.    
Haemig's honors include membership in Phi Beta Kappa, a research grant from the Herzog-August-Bibliothek in Wolfenbüttel, Germany (2010), a research grant from the Evangelische Kirche Deutschland (2003), the Regency Advancement Award of Pacific Lutheran University (1997), and the Frederick Sheldon Travelling Fellowship of Harvard University (1993-1994).
Featured Work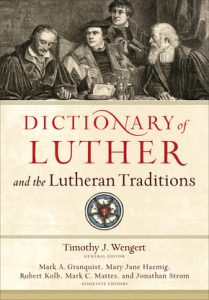 Dictionary of Luther and the Lutheran Traditions
Baker Academic (Sept. 2017)
In the five hundred years since the publication of Martin Luther's Ninety-
Five Theses, a rich set of traditions have grown up around that action and the subsequent events of the Reformation. This up-to-date dictionary by leading theologians and church historians covers Luther's life and thought, key figures of his time, and the various traditions he continues to influence.
Prominent scholars of the history of Lutheran traditions have brought together experts in church history representing a variety of Christian perspectives to offer a major, cutting-edge reference work. Containing nearly six hundred articles, this dictionary provides a comprehensive overview of Luther's life and work and the traditions emanating from the Wittenberg Reformation. It traces the history, theology, and practices of the global Lutheran movement, covering significant figures, events, theological writings and ideas, denominational subgroups, and congregational practices that have constituted the Lutheran tradition from the Reformation to the present day.