Education
Ph.D. (Luther Seminary)
M.Div. (Bethel Seminary)
B.A. Art (Wheaton College)
Biography
Steve Thomason started teaching at Luther Seminary as an adjunct instructor in 2016 before becoming a full-time faculty member in 2022. He is the Associate Professor of Spiritual Formation and Discipleship. His passion is to help equip students to become the kind of Christian Public Leaders who can first grow deeper in their own relationship with God and then be able to cultivate spaces in which others can grow deeper in the love of God, through Jesus Christ, in the power of the Holy Spirit, for the sake of the world.
Thomason's passion and calling is a fusion of art and theology. This is evident in his role at Luther. Half of his responsibilities dwell in the realm of traditional professorial work. Half of his responsibilities dwell in the creative realm of Faith+Lead Academy where he creates online courses utilizing his animation and illustration skills with teaching for the everyday disciple.
He is the author of A Cartoonist's Guide to the Bible, which is an online resource for visual learners to explore, teach, and preach the scripture using creative visual illustration and animation. Explore the resource at cartoonistbible.com.
The fusion of art and theology is evident in Thomason's history. He began his career as an Art major and a caricature artist for a large art business in Las Vegas, NV. His call to ministry began at an Evangelical Mega Church in Las Vegas where he was ordained and became the Director of Adult Ministries while earning his M.Div. from Bethel Seminary. In 2002 he stepped out of the mega and into the micro by experimenting with house church ministry for 5 years. He and his family moved to Minnesota in 2007, and in 2010 God led him into the ELCA where he transferred his ordination and enrolled in the PhD program in Congregational Mission and Leadership at Luther Seminary. He served as an associate pastor at two suburban ELCA congregations in the Twin Cities prior to joining the faculty at Luther. His art has infused his preaching, teaching, and spirituality at every step of the way.
Featured Work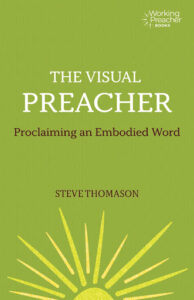 In The Visual Preacher: Proclaiming an Embodied Word, Thomason's winsomely illustrated text shows preachers visual techniques to study the Bible, construct a sermon, use the physical space where they preach, create two-dimensional images, and develop and use videos.
Visit visualpreacher.com