Biography
Terri Martinson Elton began teaching at Luther Seminary as an adjunct instructor in 2004 before becoming the director of the Center for Children, Youth and Family Ministry in 2008. In addition to her continued work with the Center, Elton accepted the position of associate professor of Children, Youth and Family Ministry in 2010 and associate professor of Leadership in 2014.
Prior to her call to Luther Seminary, Elton served as an associate to the bishop in the Saint Paul Area Synod where her responsibilities included working with congregations, leadership development, First Call theological education and youth and family ministry.
Before her work in the synod, she served at Prince of Peace Lutheran Church in Burnsville, Minn. for 16 years. While at Prince of Peace she worked in various roles within children, youth and family ministries, as well as served as the director of Changing Church Forum, an outreach ministry of Prince of Peace.  She also authored To Know, To Live, To Grow, a confirmation curriculum, and co-authored What Really Matters, a book for congregational leaders, with the Rev. Mike Foss.
Elton holds a B.A. degree in communications from Concordia College in Moorhead, Minn. (1986). She earned both her M.A. (1998) and Ph.D. (2007) degrees in Congregational Mission and Leadership from Luther Seminary.
Elton's research and teaching interests include: congregational leadership, leading in the midst of change and conflict, helping ministry leaders craft a missional ecclesiology with an eye toward the First Third of Life, awakening a vibrant theology of baptism and vocation and reimagining faith and mission practices for children, youth, young adults and their families.
Elton is a member of the Academy of Religious Leadership, the Association of Youth Ministry Educators, the ELCA Youth Ministry Network and the American Society of Missiology and is on the board for Real Resources. Elton spends much of her time working with congregations and congregational leaders and seeks out opportunities for enhancing ministry with those in the First Third of Life within the ELCA.
Featured Work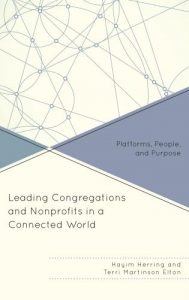 Leading Congregations and Nonprofits in a Connected World
Rowman & Littlefield Publishers (Nov. 2016)
Leading Congregations and Nonprofits in a Connected World shares emerging practices for leading and organizing congregations and nonprofits in our increasingly networked lives. Drawing on studies of congregations across denominations, and nonprofits with historic ties to faith communities, Hayim Herring and Terri Elton share practical, research-based guidance for how these organizations can more deeply engage with their communities and advance their impact in a socially connected world.
Leading Congregations and Nonprofits in a Connected World