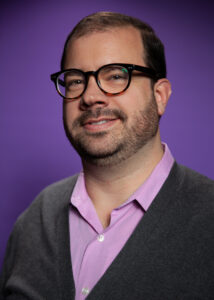 Luther Seminary has appointed Rev. Cody J. Sanders, Ph.D., to a tenure-eligible position as associate professor of congregational and community care leadership. Sanders will join the faculty on July 1, 2023. 
"Luther Seminary's emphasis on the importance of faithful innovation, focus on a rapidly changing world, and desire for an imaginative and reflective person to join the faculty captured my attention," he said. "I am excited to live out my sense of call to ministry and scholarship in the next phase of my vocational life at Luther Seminary." 
Sanders's scholarship focuses on pastoral theology and counseling, with particular emphasis in chaplaincy, spiritual care, death-care practices, and LGBTQ+ experience. He currently serves as pastor at Old Cambridge Baptist Church in Cambridge, Massachusetts; affiliated assistant professor of pastoral theology and chaplaincy studies at Chicago Theological Seminary; American Baptist chaplain at Harvard University; advisor for LGBTQ+ affairs in the Office of Religious, Spiritual, and Ethical Life at the Massachusetts Institute of Technology; and is a faculty member for the Center for Chaplaincy Studies.
"Over the years, I have received numerous invitations to discern full-time teaching positions, but I never felt it was time to leave congregational ministry," said Sanders. "What drew me to Luther Seminary is their commitment to training ministers to serve congregations and their belief that the congregation is a vital partner for the preparation of future leaders. Luther Seminary values faculty with substantial ministry experience. That may not seem unique among seminaries, but it is."
A prolific writer and scholar, Sanders has authored and co-authored many publications, including "Christianity, LGBTQ Suicide, and the Souls of Queer Folk" (2020) and "Queer Lessons for Churches on the Straight and Narrow: What All Christians Can Learn from LGBTQ Lives" (2013). His most recent book, "Corpse Care: Ethics for Tending the Dead," was released by Fortress Press in January 2023.
"Dr. Sanders will be a leading scholar in the field of pastoral theology. His extensive teaching experience and research, coupled with years of practical experience as a counselor, chaplain, and pastor make him a wonderful candidate to lead congregational community care at Luther Seminary," said Rolf Jacobson, dean of the faculty. "I want to thank our faculty, students, President Robin Steinke, and our Board of Directors for their involvement and support as we conducted a thorough and competitive search to fill this important position."
Sanders received his undergraduate degree in religious studies and psychology from Gardner-Webb University, master degrees in community counseling and in pastoral care and counseling from Mercer University, and a doctoral degree in pastoral theology and pastoral counseling from Brite Divinity School.
His responsibilities will include teaching required and elective courses in congregational and community care leadership across Luther Seminary's degree programs and in multiple modalities (online, residential, and hybrid). In addition to student advising, he will also contribute to the seminary's extensive digital platforms, which include Faith+Lead, Enter the Bible, and Working Preacher. 
A
bout Luther Seminary
Luther Seminary educates leaders for Christian communities across the country and around the world. An innovator in theological education, the seminary is committed to exploring leading-edge approaches for Christian ministry, proclamation, and faith formation in a rapidly changing world. As one of the seven seminaries in the Evangelical Lutheran Church in America, Luther Seminary has educated more than one-third of ELCA pastors, lay professionals, and leaders of many global Lutheran and ecumenical churches. Learn more at luthersem.edu.