Renowned American novelist Flannery O'Connor believed in the power of story. "A story is a way to say something that can't be said any other way," she wrote. "You tell a story because a statement would be inadequate."
In the early 1990s, Luther Seminary went through a common undertaking in higher education: curricular revision. As faculty examined the curriculum, it became clear that students were well-versed in parts of the Bible, but they needed a big-picture view. Students were required to take an exam during their seminary experience that covered the Bible in its entirety. At the time, Luther was only offering courses that covered selected parts of the Bible, not the full sweep of the biblical story. To address this problem, then-Associate Professor of New Testament Craig Koester began teaching the Genesis to Revelation course in 1995.
In the vein of O'Connor's regard for the power of story, Koester notes that the Bible is not just a book of abstract ideas. Stories provide a framework for understanding its message. "We can identify with people in these stories," said Koester, who also serves as the seminary's Asher O. and Carrie Nasby chair of New Testament. "We're invited to see ourselves and our stories as part of the larger biblical story."

Engaging the whole student with the whole story
As he designed the course, Koester wanted to take students seriously as whole persons, engaged with and experiencing Scripture rather than just approaching it with their minds. "You don't analyze music until you've heard it," he explained. "I needed to figure out how to take ink on a page and translate it into sight and sound." He determined that students' voices should become part of the telling. He narrated the stories, and students would participate as characters in the Bible. He also brought music into the course, such as hymns based on Scripture, to engage both the mind and the heart.
Joe Orner '19 M.Div. said, "Each day I was amazed with how Dr. Koester made the Bible come alive in new and exciting ways and how passionate he was about it. It's easy for intensive classes to get boring and exhausting when you're there all day, every day, but I was focused and engaged the entire time because of how well he taught the class."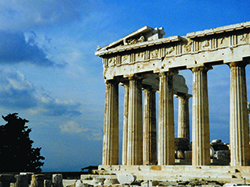 One of Koester's greatest challenges was figuring out what to include. He wanted to give priority to the Bible's narrative flow and to choose key moments to focus on from this extensive story that begins with creation in Genesis and ends with the new creation in Revelation. "Not every story is equally important. For instance, when you tell the whole story of the Bible, you must include the Exodus, the Exile, Jesus, and Paul," he said. He also wanted to bring out diverse voices, such as prophets whose messages were different from others in terms of emphasis.
Because his course could not possibly cover everything, Koester had to decide on the highlights to focus on within each story or book of the Bible. He offered an example: If you can only pick a couple of passages from Jeremiah, what do you choose? Clearly, you must mention Jeremiah's critique of the temple. You also need to include Jeremiah's message about the new covenant, because knowing that provides a foundation for understanding Jesus' references to the new covenant.
Within the New Testament, Koester chose to focus on one gospel: Luke. "That flows readily into Acts," he said. "And then, when we read about Thessalonica in Acts, we also would read part of one of Paul's letters to the Thessalonians."
As Koester planned assignments for the course, his goal was to encourage students to imagine ways of helping others engage with Scripture in the contexts where they might serve after graduation. As a thoughtful scholar who had published numerous books and articles and also had experience in pastoral ministry, he wanted them to use assignments to explore passages more deeply and to create practical work they might use in the future, such as sermons and lesson plans.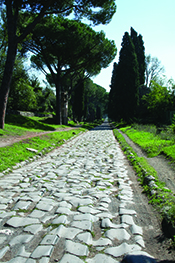 Like many of his former students, Amelia Arthur '18 M.Div. attested to how helpful she found the class. "One of the things [Koester] encouraged us to do was to take notes in our study Bible as we went through the course. To this day I treasure using that Bible as one of the first resources I go to when preparing a sermon. I love re-reading my notes about what we talked about, what music or poetry or reflections we did on a particular text, and his wise words about how a particular passage might be meaningful to us and to a congregation."
The course evolved over the 25 years of its existence. "The most obvious change was the visual aspect," Koester said. "In the 1990s I used slides of photos I had taken in Jerusalem, so that students could picture the settings of stories." The rise of the internet allowed him to expand on these visual resources. The pacing of the course also changed, as Koester discovered through experimentation just how much he could include.
Early in its history the class became quite large, so Koester had to adapt discussions to small breakout groups. These discussions were enhanced with the advance of technology; eventually Koester could show students a video clip of Martin Luther King Jr.'s "I Have a Dream" speech and then ask students to reflect on how King was like Amos and how he was interpreting Amos. Such ties to more recent life and events strengthened the course material's relevance for students, helping them apply their theological learning to real-world ministry practices.
A favorite class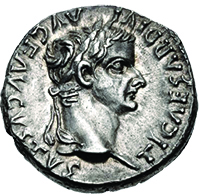 Again and again, students have reported that they took the class because they'd heard from other students and even from pastors who were alumni that they should not miss Genesis to Revelation. Many students would enroll in the class because, having already taken at least one course with Koester, they were excited to take another.
"I have found great value in each of my courses at Luther," said Heidi Schauer '21 M.A., "but Dr. Koester's Genesis to Revelation course was in a category of its own. I was told over and over again how good it was, but in actuality I don't think anyone could have conveyed how it would speak right to my soul and crack me wide open."
Students also appreciated the fact that the class covered the entire narrative arc of the Bible. As such, Genesis to Revelation was one of the last classes many students took while at Luther, allowing them to end their time in seminary with an engaging, comprehensive look at Scripture.
In their reflections on the class, many students brought up Koester's passion for teaching the biblical story. Among their fondest memories are the ways in which Koester used music and drama in the class; a play on Queen Esther stood out for many of them. Students also talked about how Koester encouraged them to take notes in their study Bibles and how those notes became a valuable resource for them in ministry, reminding them of connections between different biblical stories and between the narrative arc of the Bible and their own story.
 "I will never forget the way Professor Koester inflected different passages. He used his voice and passion for the Word to bring it life for us in the period of one short week."—Melanie Forrey '22 M.Div.
"I will never forget the way Professor Koester inflected different passages," Melanie Forrey '22 M.Div. said. "Sometimes he was quiet and somber and other times shockingly loud and expressive. He used his voice and passion for the Word to bring it life for us in the period of one short week. I especially remember our conversations about grief and dying and am so thankful to have a Bible full of scribbled insights to guide me in future ministry."
Beyond the seminary
Koester has now entered a phased retirement at Luther Seminary and will not be teaching the Genesis to Revelation course again. While this unique course is no longer being offered at Luther, people can still benefit from Koester's knowledge and passion, albeit in a very different format.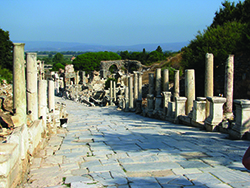 A few years ago one enthusiastic student nominated Koester to teach for The Great Courses, a series of college-level audio and video courses available online. As a result, he adapted two courses for the company—Reading Biblical Literature: Genesis to Revelation and The Apocalypse: Controversies and Meaning in Western History. "This allowed me to address a wider, more varied audience," Koester said. But it presented him with a problem: "How do you engage a broad audience you can't see?" People interact with The Great Courses in different ways, including listening to a course as they drive somewhere, so Koester couldn't ask people to read a text or sing along. He had to communicate using the power of his voice. "The most rewarding responses I get are emails from people that begin, 'I'm not a religious person, but …,'" he said. He hopes these classes will invite people to go deeper into the biblical story, regardless of their religious affiliation or academic background.
Over the course of 25 years, Koester used Genesis to Revelation to give his students an enduring sense of the vitality of the biblical story. "It's a dynamic story that unfolded over generations," he said. "I want students to see our stories in that light. I hope they will see how this story confronts us and how it continues to inspire, to encourage, to generate hope now as it has in the past."
Find Koester's adaptation of Genesis to Revelation on The Great Courses.