Famine and social unrest had driven a third of Norway's population and about 300,000 Swedes to Minnesota by the mid-19th Century. Half a world away and more than 100 years later, civil war and persecution has led upward of 100,00 Africans to resettle in Minnesota. Their stories collide at Christ the River of Life Lutheran Church, which evolved from the merger of a 123-year-old Swedish church and its neighboring Norweigian parish in North Minneapolis. Every Sunday, more than half its pews are filled with West African immigrants.
Multicultural congregations, like River of Life, require an adventurous spirit, said Hollie Holt-Woehl '93 M.Div., '08 Ph.D., an adjunct professor at Luther Seminary, who twice served the congregation as interim pastor. Members must be willing to evolve traditions into new rituals that both honor each other's past and particularity yet feel home to all.
"What makes a diamond shine is all the cuts in it, meaning the more we come together—bridging our differences—the brighter we shine as a force in the world. But it's difficult work," said Holt-Woehl, who lovingly nudged congregants beyond wide-eyed, fancy talk about diversity to navigate frustrating yet productive conversations. "I often call myself a cultural broker as I work to draw people in the center to the margins and the margins to the center."
Faith leaders, she said, must equip themselves with the patience, awareness, and sensitivity needed to counsel congregations that reflect an increasingly diverse and global society. The Pew Research Center estimates that by 2055, no one racial or ethnic group will constitute a majority of the U.S population, and that roughly two-thirds of immigrants entering the United States are Christian.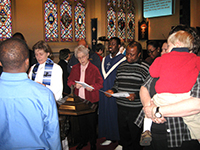 Imagine: Radically welcoming churches that express the fullness of Christ's body and embrace the spectrum of members' voices, cultures, and gifts. But efforts to diversify—however well-meaning—can also result in varying shades of pain and factionalism. Holt-Woehl and her colleague, Professor of the History of Christianity Mark Granquist, insist the best path for immigrants and the communities that welcome them are as varied and distinct as they are.
How do faith leaders and communities know which approach to take? "They listen," said Granquist.
Get local and listen
An accomplished historian and Luther Seminary's Lloyd and Annelotte Svendsbye chair in church history, Granquist said the church reflects tensions within an ever-changing world. Mind-swelling statistics and bombastic rhetoric often polarize and confuse people into inaction or passive gestures like yard signs or Facebook likes. Just as Jesus didn't see crowds, he added, Christians are called to see immigrants as individuals.
"When we approach immigrants as our brothers and sisters, who struggle with kids' third-grade math homework, burn dinners, and such, it becomes personal," he said. "Get local. Meet your neighbors who are here, in a strange land, and truly listen. Don't assume you know or understand their needs, hopes, and dreams."
"Immigrants are an integral part of our future as a nation and have a profound impact on the way we worship," Granquist said. "Whether they have fled their country and come to us with trauma, or ambition has pulled them to our shores, immigrants need and want to be part of our story. How they want to be part of that story, though, is up to them. They will tell you what they want, but only if you ask and keep them part of the conversation."
The immigrant experience
Francis O.M. Tabla Sr. '08 D.Min. knows how it feels to be asked.
Shortly after he arrived in the Twin Cities in 2000, Tabla met a local pastor, Robert Stephens, who wanted to minister to some of the state's then-20,000 Liberians. But after witnessing Tabla's ability to connect with fellow Liberians and his passion to plant a church, Stephens stepped back to a supportive role. He invited Tabla's congregation of eight to hold prayer services at Pilgrim Baptist Church in St. Paul, Minnesota. In one month, they had about 100 attendees.
 "Meet your neighbors who are here, in a strange land, and truly listen." —Mark Granquist, Professor of the History of Christianity
Friendship and partnership, Tabla said, fueled the Liberian Community Church to fill classrooms at an area college, then a high school auditorium, then their own building in Brooklyn Park, Minnesota, in 2017, with more than 700 members from Ghana, Guinea, Haiti, Jamaica, Kenya, Liberia, Nigeria, Sierra Leone, and the United States.
"When we came to Minnesota, we came from a civil war. We needed to work through that trauma with our people, and we needed a church to center and sustain us. There's just something about hearing your people sing your songs of worship, in your language" said Tabla, who came to study in the United States in 1997 and later earned a doctorate in biblical preaching with an emphasis in stewardship. "Starting as a church for Liberians helped us find ourselves and build community, but in our second year, we felt called to change our name to Ebenezer Community Church and reach out to other nationalities."
Ebenezer dedicates Sundays to specific nations represented in the congregation. "We have Ghana Sunday, for instance, where our members from Ghana invite their friends, we fly their flag throughout the sanctuary, and we do reflections on the nation, sing songs from Ghana, and incorporate their worship styles into the service," he added. After worship, festivities often continue with flavorful foods of the nation, served up at church members' homes.
This work has propelled Ebenezer's reach. The church airs services on Liberia's state-owned radio station and has bought property in Liberia to establish a church. Next up, a sister congregation in Kenya, Tabla said.
"We've never forgotten the friendships and places—like Luther Seminary—that played a pivotal role in preparing us for the work God has enabled us to do and will continue to do."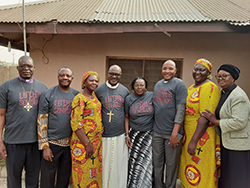 The seminary's global influence
Marie Y. Hayes is not surprised to hear of Tabla's success. As Luther Seminary's director of international student and scholar affairs, she knew the driven Liberian as a student. Having worked in the role for 28 years, she's watched many culture-shocked international students, immigrants, and refugees transform into church leaders across the globe.
In late February, she had the "honor of her life" as a guest at the 95th Convention of the Lutheran Church of Christ in Nigeria, held in Eastern Nigeria. Who invited her? The LCCN's Archbishop Musa Panti Filibus '98 Ph.D., who also serves as head of the Lutheran World Federation, a global communion of 148 Lutheran churches that represent more than 75 million Christians in 99 countries.
"As a student at Luther, Musa would often stop at my on-campus residence at that time and ask, 'Hello Mama, I have mowed the lawn; do you have some fufu?' Fufu is one of the staple foods for most West Africans," said Hayes, who guides the seminary's more than 50 international students. "We helped him adjust to living on campus and the United States, because that's what we do for all of our international students.
"And then, there I was in Nigeria, watching him on stage not only as the leader of the LCCN but also the president of the Lutheran World Federation. He is connecting with so many of our graduates who have gone off to make a lasting mark on the world," she added.
Luther transformed her as well. She fled Liberia in 1990, arriving in Chicago with the intention of buying supplies to return to a refugee camp in Sierra Leone. But the former Liberian government official realized it was unsafe to return, so she obtained employment in Chicago. Her children joined her 10 months later, and they moved to the Twin Cities in 1992. Luther Seminary hired Hayes that same year.
"Luther's embrace and support of the global community is its distinction," she said. "People here understand that many international students, immigrants, and refugees are here to get an education and contribute to society. They love America and are grateful for the opportunities it provides."
Welcoming, even at a distance
As the COVID-19 pandemic set in, many international students who were living on campus could not travel home. Sarah Luedtke-Jones, director of student affairs, said the seminary provided adequate space for them to stay in campus housing, and the group of 20 has found ways to worship and share meals together—at a distance. Dining services provided two meals each weekday, and the campus food shelf extended its hours. The seminary also gave these campus-bound students $50 gift cards to purchase essentials at a local market.
"They are from different cultures, yet they have found a way to bridge barriers to language and worship," Luedtke-Jones said. "Our Community Life Fellows, who organize events for students throughout the year, always include our international population. Last Friday, they held a virtual African dance party. Pastor Jeni Grangaard '09 M.Div. incorporates diverse elements into chapel services, as we have not only international students but more than 40 denominations represented in our student population."
Alazar Lemu '22 M.Div. said he has felt Luther's "outstretched arms for others," no matter where they are on their journey. The 32-year-old Ethiopian reviewed the seminary's website and walked on campus several times before he entered the admissions office.
"I was afraid, since I'm here as a refugee—seeking asylum. But shortly into the conversation, a weight lifted. I realized I was in a safe place," said Lemu, who has been in the United States since 2017. "I've been through a lot—war, abuse, hate—but my faith has carried me through it all. We cannot live life without each other, and Luther lives that. The seminary, its students, and alumni are there for others, always."
Lemu's work visa allows him to work off campus as a cab driver while he finishes his degree in systematic theology. After graduation, he hopes to work for the ELCA to strengthen theological understanding and relationships across cultural and denominational lines. He is happy to serve overseas but recognizes the need to pastor immigrants in America.
"When I arrived here, I was depressed without a community," said Lemu, who visits a different church most Sundays to explore the country's many denominations. "I started volunteering in churches and slowly got what I needed most—friendship."
Global neighbors in partnership
The nation's ELCA members are positioned to pastor and befriend the growing cadre of foreign-born in the United States, which hovers around 14%, according to census data.
"Congregations and individuals who are eager to learn more about immigration or take action should get to know their neighbors in their communities," Granquist said. "Often, that results in the most profound impact, and it informs larger gestures of support you may take."
The ELCA's Lutheran Immigration and Refugee Service has welcomed more than 500,000 refugees to the United States since 1939. Congregations' grassroots support of foreign-born neighbors bolsters this work, but to make it one's sole focus is shortsighted.
"We must work to assist those who are not able to return to their homes or help those who wish to return," he added. "But let us also push for policies, programs, and actions that reduce pressures and situations that pull or push people to leave their homes because they cannot find a good life there."
He urges Christians to explore the ELCA's international work through advocacy, mission, and service. The organization's Global Mission personnel work in 40 countries across the globe, through short- and long-term assignments and scholarships for seminarians and alumni. Lutheran World Relief operates in East and West Africa, Latin America, Asia, and the Middle East to promote sustainable agriculture and climate adaptation, while responding to natural disasters and humanitarian crises around the world.
"It's a complex issue that has been the human story since the beginning of time," Granquist said. "But God continues to call us to care for the most vulnerable members of society. As Christians, we must be as faithful as we can to our understanding of how to treat people. You might be surprised at how much your blessings are returned to you."