When the world turns upside down, the world heads to church.
It happened after the terrorist attacks of September 11, 2001. And it happens on a smaller scale in local communities after events like mass shootings occur. But what happens to that instinct to go to church when a pandemic shuts down towns, cities, entire nations? The answer is inspiring faith leaders who are working to help congregations navigate the COVID-19 crisis that's circled the globe since the beginning of the year and crippled the United States since mid-March. Amidst all the fear and sorrow the pandemic is creating, it may also be responsible for giving rise to an ecumenical evolution.
"I personally believe this is the greatest opportunity the church has ever had to reach the people the church was designed to reach. Our church too often reaches the people who are already here," said Hans Dahl '05 M.Div. "I think the greatest mistake the church has ever made is referring to 'church' as the building."
Dahl pastors Calvary Lutheran Church in Alexandria, Minnesota. He and his wife, Katie Dahl '05 M.A., the coordinator of congregational ministries at Calvary, were both students and staff at Luther Seminary.
"I hope after this we never say 'I'm going to church.'" Hans Dahl said. "This pandemic has forced us to make that a reality."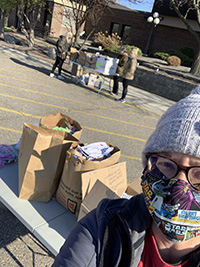 Alternative worship is the new normal
The congregation has adopted weekly online services, but staff members also encourage virtually connected groups that include six to 10 people who agree to meet regularly in small faith- and life-sharing circles. The church community enjoys fellowship via events like virtual bingo, and Dahl and the leadership team create what they call "The Daily Dose," video segments shared five days a week offering songs and short messages on faith and encouragement for different audiences within the congregation.
While not an entirely seamless transition, the harder challenges of the pandemic changes may reveal themselves when coronavirus restrictions are eased, Katie Dahl said.
"There are so many people that would not have come through the door of the church, who are hearing the invitation to join us," she said, for worship and service opportunities.
People who were entirely unchurched or who hadn't engaged in church, sometimes for decades,  are checking in to the community's Facebook Live video streams, or responding to calls for fabric or other materials for mask-making efforts. Now the congregation has to consider how to sustain that energy.
"I want people to understand the church is not a building, and spirituality is not about a physical location."—Salim Koderbhai, M.Div. student
"There are plenty of people asking that question in our congregation," Katie Dahl said. "What will we grow, knowing we can't go back to things as 'normal?'"
Forward to 'who we are'
In Bloomfield Hills, Michigan, Niklaus Schillack '15 D.Min. shares the Dahls' thinking. The pastor and his team are working to make sure that church gets redefined for the congregation at Beautiful Savior Lutheran Church.
"The church is now forced to be and to do what we have been saying for years. It's almost like God has called the question and said 'OK, put your money where your mouth is. You've been saying the church isn't the building for years—do you really believe it?'" Schillack said.
Schillack said Scripture readings are divided up between different families, who record the segments in their homes or backyards for inclusion in the weekly services. Communal prayer services are offered semiweekly, and twice each week Schillack sends Beautiful Savior Updates—emailed missives designed to buoy readers that start with a pastor's short message,  offer ideas for family fun virtual events like the Panda Cam at Zoo Atlanta, and include calls to action for service opportunities like phone trees connecting church members with others who may not be in a faith community.
"How can we go back at this point?" Schillack mused about what his community has learned through online worship services. "We're seeing who we really are and who we're really not."
"My desire, and I'm seeing it happen on a constant basis, is that the church comes out of this time with a more clear, passionate understanding of who we are, having been created in the image of the Trinity. I don't want us to forget how much we all need each other. Society has sold this lie that we can do it on our own and we don't need anyone, and it took only a couple of days for that lie to be shattered."
A very different future
Dwight Zscheile, vice president of innovation and associate professor of congregational mission and leadership at Luther Seminary, said the pandemic isn't only inviting deeper reflection around what church is, but it's also challenging faith communities to adapt more rapidly than they might otherwise would have.
"Eventually, on the other side, there is a time of reconstruction, when the community rebuilds its life out of the ruins of what was. For many churches, the future will look very different than before this crisis. COVID-19 will accelerate (by years even) trends of institutional fragilization and demise. Yet there will be a time to build, to discover new forms for Christian community spirituality is not about a physical life and witness amidst the collapse of the old," Zscheile wrote in a blog post for Faith+Lead, the seminary's digital resource hub that helps leaders address challenges facing churches in the 21st century.
In rural southwest Minnesota, where former M.Div. student Salim Kaderbhai pastors two small community churches, that idea Zscheile describes is particularly timely and challenging. One of the congregations Kaderbhai oversees recently voted to close because the ministry could no longer be sustained.
"It's definitely hard as a pastor. I want people to understand the church is not a building, and spirituality is not about a physical location, so that idolizing the building doesn't blind people to what true faith is."
Kaderbhai said too often people can be talking about 'my church,' and they really are thinking of the building and land—how well-kept are the grounds, and is the paint fresh inside the fellowship hall? But he said it's also painful after people have come together, sometimes for decades, sharing their lives and worshipping in one space, to not be able to say goodbye to that structure, literally and figuratively. It's a different kind of void left for those parishioners.
So Kaderbhai said his goal is to help people in both communities find new ways to grow.
"There are two kinds of churches: Those that are meant to be a church and those that are a museum. Is it a place to preserve history, or is it a place to live out your faith? This has really forced people to reevaluate what their priorities are," Kaderbhai said.
"From a pastoral perspective, my hope is that they all understand how we all need not only the God who created us and forgave us, but the community that God gave us. I want people to understand the importance of meaningful, transformative relationships with God and each other."
Shaking off muscle memory
That challenge is exactly what Katie Langston '21 M.Div. and others at Luther Seminary are helping faith leaders navigate with the resources and community of Faith+Lead.
COVID-19, said Langston, director of digital strategy and executive communications specialist, "is stripping away the muscle memory of what church is."
If the default is gathering together on Sunday to display membership, or if attendance at a particular service is church, she said it will be much harder for a faith leader to sustain that congregation through this current— or any other—crisis the church community is likely to face.
"This pandemic is causing people to reflect deeply on the questions of what church is and what it means to be church," Langston said. "If, as a leader, you haven't answered that question better than 'It's the building,' when we are able to gather together again you will have far fewer people, because people will have figured out they can do without church."
She said it's not a question of simply taking what's done in person and plopping it online, but instead it will require "imagination and deep theological consideration of what we are doing here."
Langston and other members of the Faith+Lead team are helping pastors and leaders ask the right questions so they can find the answers that best fit each unique spiritual community.
She encourages faith leaders to "take the opportunity now to be intentional in your discernment of what God is saying" so they can clearly define what's next.
That intentionality is guiding Nathan Strong '11 M.Div. as he serves his congregation at Grace Lutheran Church in Carrollton, Texas.
Strong said there's a desire, as a community's pastor, to feel like all the answers have to flow through him. Instead, he said, he tries to keep everything in perspective by gathering smart people around him who can determine what the community wants to accomplish.
"This pandemic felt like someone slammed on the brakes of life for all of us," said Strong. "Now that we are slowly moving, we can figure out what is important, where we are going, and more importantly, that everyone matters to God, so they matter to us."