Married couples involved in ministry share a unique bond beyond their studies at Luther Seminary
In the movies, the scenes would be called "meet cutes."
Picture a girl riding her bike and a boy driving his car, both working to get to their classes on time—she for Greek, he for marriage and family. The scene would cut to the pair chatting in a hallway, waiting for their classes to start, and as they go their separate ways the audience would get a Hollywood hint that the chance moment was instead a spark of connection for a lifetime.
Or imagine a scene that opens with the camera panning across the rolling hills and breathtaking bluffs of southeastern Minnesota. Then the camera comes to rest on two young adult counselors laughing over the heads of young summer campers. She was back for the summer from Mexico, where she'd been working and studying; he was building log cabins at the camp.
Or a scene of a man getting a tap on his shoulder as he walks up to communion. Behind him, an old friend offers an invitation to a dinner that ultimately ended with a promise of forever.
Though not the norm, it's certainly not uncommon for married couples to share an alma mater. A Facebook Data Sciences survey found that 28% of married college graduates attended the same school. When that school is seminary, there can be unique challenges, especially when two alumni work with a congregation together. But the benefits of the shared seminary background provide faith leaders a depth of support and understanding they say is simply impossible to replicate, and they wouldn't want it any other way.
From friends to forever
Catherine Malotky '86 M.Div. and David Engelstad '82 M.Div. were clear from the beginning—they were not interested in a relationship. The pair met at Luther in 1981, just 11 years after some Lutheran denominations began ordaining women, and the church was still navigating the change.
For Malotky, that meant making it evident to her classmates and instructors that she was serious about her studies.
"I was quite clear I didn't come to seminary to get a 'Mrs.' I came to get an M.Div. This was business," she said.
Engelstad shared that desire to focus on the work.
"I was resolute that I didn't want to marry another pastor," he said.
"It was neither of our intentions to find each other," Malotky added.
But the pair relished the opportunity to passionately discuss what they were studying.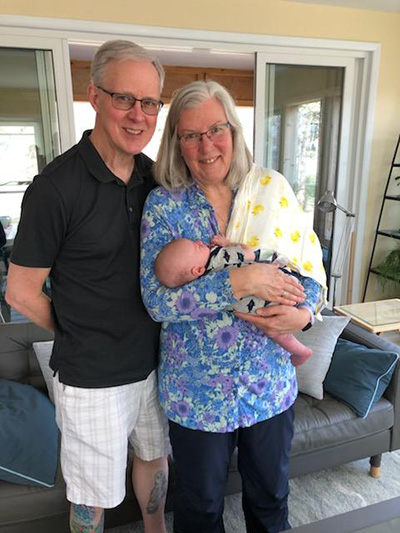 "Every time I was in a class I wanted to chew on what we were learning," said Engelstad, who retired as a lead chaplain at Fairview Southdale Hospital in Edina, Minnesota. "Old Testament, New Testament, pastoral care … you would sit in class and learn something, then you'd want to think through it, how you would use it in your service. Having a compatriot to wrestle with the texts, thinking about the Greek and what it really said—it was really easy to do that with Cathy."
That shared bond between seminarians studying for service extends well beyond the classroom.
"One of the questions that clergy couples have to answer is, 'Now you're both pastors; do you want to work together, or do you want separate calls?'" Engelstad said.
Most people get married because they think they can be a good couple, but they don't necessarily imagine themselves working together—whether they're clergy or not. But in the case of Engelstad and Malotky, after spending time working together, they had an 'aha' moment.
"We found we actually could do really well in a parish," Engelstad said.
The pair was successful in part, they said, because they shared everything. Church members understood that they were a team, with parish and familial obligations. The two never worked a Christmas service together, because they had young children at home. And for regular Sunday services, they had a rather ingenious system for church and kids alike.
"We had a rule that whoever wore the collar was the presiding pastor that day," Malotky said. "The one who didn't was the presiding parent."
The only downside to working so well together, Malotky said, is that it's easy to work all the time. The couple ultimately opted to move away from parish work—Engelstad to pursue pastoral care while Malotky moved into several non-congregational calls, retiring after serving as director of development on Luther's Seminary Relations team. But the pair renewed their working relationship to co-author "Carrying Them With Us: Living Through Pregnancy or Infant Loss."
The book was a reflection of their personal and professional experiences, Malotky said.
Scholars and servants
When Cindy Fisher-Broin '97 M.Div. and Nick Fisher-Broin '88 M.Div. first met, their shared appreciation for scholarship and service created a connection others just didn't understand.
Cindy was home for the summer from Cuernavaca, Mexico, when she went to work at the Good Earth Village summer camp in southeastern Minnesota. That's where she first encountered Nick, who was there building log cabins.
Within a week or two, Nick said, the pair realized they had a lot in common.
"Most people when I came back from Mexico said, 'Did you have a good time?' And that's not what it was about. It was a learning, growing experience and nobody understood that, but Nick did," Cindy said, because he recognized that her time in Cuernavaca was about ministry and service, not vacationing.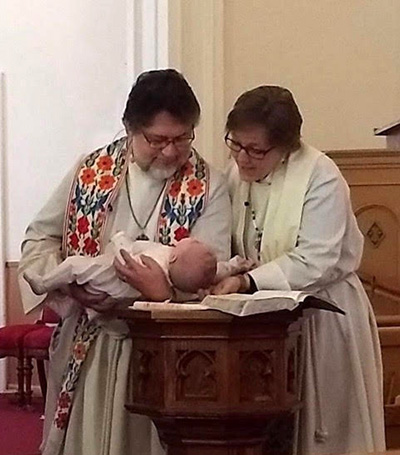 Though the couple connected and married fairly quickly, it would be a few years before Cindy would pursue her own studies at Luther Seminary. Nick was in his second call, and Cindy realized she didn't want to be a pastor's wife—she wanted to be a pastor. But with one little boy at home, figuring out how to make that happen eluded her.
She was on her way home from what was then Mankato State University, where she was taking classes in psychology, when she laid it out.
"As I was driving home, I said, 'OK, God, if you really want me to be a pastor, you have to make this work,'" she said.
The couple was living in southern Minnesota at the time, making a commute to Luther Seminary's campus in St. Paul undesirable. But a call for Nick to serve in Northfield, Minnesota, suddenly made everything more practical.
"Everything just fell into place," Cindy said. "I couldn't have worked it out any better than what it was."
The Fisher-Broins left Northfield to share a call at their current parish, Spring Garden Lutheran Church in Cannon Falls, Minnesota. They've been together at the church for more than two decades.
"We are similar in a lot of respects but different, too," Nick said. "Our skills are really complimentary."
Nick said that at times, some parishioners will assume he's the senior pastor, because he's a man.
"They'll call him pastor and me Cindy," Cindy said with a wry laugh.
So the couple uses those opportunities to educate and engage.
"We can't always determine what people do or say, but we can determine how we respond," Nick said.
It's personal and business
Volleying ideas and sharing hopes and worries are some of the greatest benefits that a Luther Seminary experience provides for partners.
Jeff Sartain '90 M.Div. and Mark Sedio, who attended 1982–86, shared a group of friends when they were at Luther, but it would be years before their friendship blossomed into love.
"We had kind of a clandestine group of LGBT people who hung out together," Sedio said. "We all leaned on each other. I knew Jeff through mutual friends, then he graduated and moved away."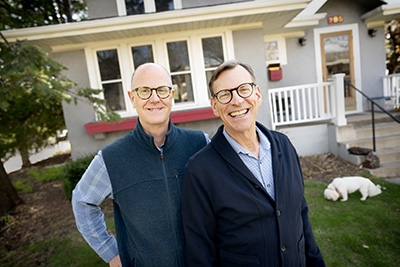 It was some years later when they reconnected during a faith-based conference in Michigan. An invitation to dinner created an opportunity for conversation that rekindled good memories and made them both realize there was something more between them.
After they were married, Sedio continued his work in music ministry: teaching and earning the title of musician emeritus at Luther Seminary, conducting and teaching at Augsburg University, and serving as cantor at Central Lutheran Church in Minneapolis. Sartain took a call to co-pastor at Edina Community Lutheran Church in Minnesota.
"For the first 27 years of my ministry, I served in the United Church of Christ. My being called to a Lutheran congregation was a great joy for both of us," Sartain said.
The pair doesn't have the same responsibilities as two married pastors, and that nuanced difference is something they embrace.
"Even though I'm a deacon in the ELCA, I'm the musician part of a clergy couple, and that changes the dynamic a little bit—we don't have exactly the same responsibilities. We're more like puzzle pieces," Sedio said. "He says, 'Well, what hymn could work here?' and we'll brainstorm, and he'll bounce those ideas off his musicians (at church)."
Where some couples who work together might have a challenge trying to keep work and home separate, Sartain said they don't have that concern.
"Our work is a joy to us—a calling and a vocation," he said, adding that support is essential to staying vibrant.
"Maybe some people think that ministry is lonely, and for some it is. But having a spouse who understands your calling and your faith … to have a community who understands you and loves you, honors that you are a whole person—we're whole people who are doing ministry."
The couple also cultivates active friend groups that are not directly tied to ministry. Those other relationships provide much-needed perspective.
"In our close circle, we have people who are churched and those who are unchurched," Sartain said. "My work is a mystery for some of them, but then I have friends who are engineers, and I couldn't tell you exactly what their work entails."
Through it all, the two are buoyed and enriched by one another and relish their opportunities to share ideas.
"To have somebody understand your work or call … the thing that works so well is not only that Mark understands my work, he understands who I am," Sartain said. "That reality check, that grounding—I wouldn't be as good of a pastor as I am without Mark."