The listings in this publication include notifications received by April 30.
1940s
Willard Lund '48 died on February 6. He served many churches in North Dakota, Wisconsin, and Illinois. In 1998, he received Luther Seminary's Faithfulness in Ministry Cross Award, which recognizes individual alumni who have demonstrated exemplary ministries as a symbol of the multitudes of Luther Seminary graduates who serve faithfully through the years wherever they are called.
1950s
Marshall D. Moen '53 B.Th. died on October 3, 2021. He served in parish ministry at churches in the following Minnesota cities: Duluth, Long Prairie, Litchfield, Bricelyn, and Twig. He did chaplaincy work in Luverne, Minnesota; Kalispell, Montana; and at the St. Louis County Jail in Duluth, Minnesota, until he retired.
Gerald White '53 B.Th. died on January 6. He served parishes in Minnesota, North Dakota, and Montana. He held a master's degree in chemistry and a doctorate in Old Testament and Semitic languages. White served many parishes and taught religion and chemistry at many colleges, universities, and schools.
Robert Beckstrand '53 B.Th. died on March 26. He served in parish ministry at churches in Iowa, Minnesota, and Wisconsin. In 2007, he authored a book, "Companion to the Psalter." He and his wife later retired to Stoughton, Wisconsin
Peter Lars Kjeseth '54 B.Th. died on January 16. He served as a U.S. Army chaplain following his ordination before earning a doctorate at the University of Chicago. From 1965-99, Kjeseth was a professor of New Testament at Wartburg Theological Seminary in Dubuque, Iowa. He and his wife later retired to Lynchburg, Virginia.
Charles Gilbert Komschiles '57 B.Th. died on December 17, 2021. He served as a chaplain in the U.S. Army Reserves, worked at Augsburg Publishing House (now Augsburg Fortress), and served congregations in Minnesota. He and his wife later retired to Brussels, Wisconsin.
Anton P. Stoll Johnson '59 M.Div. died on March 2. He served three parishes in the Pacific Northwest during his 63 years of ministry. He also completed a second master's degree in marriage and family counseling at Western Oregon University in Monmouth, Oregon.
1960s
Duane A. Swenson '61 B.D. died on February 6. He served parishes in Minnesota and Wisconsin.
Halvor Ronning '62 B.D. is co-founder of the Jerusalem Center for Bible Translators, a nonprofit educational ministry that trains first-language Bible translators. He has taught at Jerusalem University College and is dedicated to the work of training Bible translators in the land of the Bible. He is a scholar in the Hebraic background of the Gospels and is an active member of the Jerusalem School of Synoptic Research.
Aage Carlsen '63 M.Div. died on February 26. He served many congregations in Northeastern Minnesota and Galesburg, North Dakota. He retired in 2003 but continued to do pastoral work.
Lawrence "Larry" Thompson '63 M.Div. died on September 1, 2021. He served in parish ministry at many churches in Montana and Washington. After retiring from ministry, he received a second master's degree that led him to be an archivist in the Buswell Library Archives and Special Collections at Wheaton College in Illinois.
Louis W. Accola '64 M.Div. wrote the book, "Feelings and Faith: Reflections on God's Gifts for Life's Journey."
Richard "Dick" E. Lind '64 M.Div. died on March 24. He served parishes in Wisconsin and Arizona until he retired in 2015. In retirement, he and his wife spent their time between Long Lake (Sarona), Wisconsin, and Green Valley, Arizona.
Albert Frederick Girtz '65 M.Div. died on February 11. He served in parish ministry at many churches in Minnesota and Kansas. In 1976, he founded the Counseling and Growth Center in Salina, Kansas, while working for Lutheran Social Services. He also served as a hospice chaplain at the Mayo Clinic in Mankato, Minnesota, until his retirement in 2015.
Darrell Jodock '66 M.Div. and William Nelson '07 M.Div. co-wrote "Embracing Diversity: Faith, Vocation, and the Promise of America," which Fortress Press published in November 2021. The book is designed to help readers explore race and interreligious relations.
Rodney Lee Ellertson '67 B.D. died on December 18, 2021. He served in parish ministry at churches in Oregon and Washington, while also working as a chaplain and volunteer firefighter. He and his wife later retired to the Portland area.
Terry Kinney '67 M.Div. died on November 5, 2021. He served many churches in Montana, Florida, and Wisconsin. He and his wife later retired to Door County, Wisconsin.
1970s
Lawrence "Larry" Rorem '72 M.Div. died on December 20, 2020. He served in parish ministry at churches in Oregon, Michigan, and Alaska. He was a strong advocate for Lutheran clergy with mental illness as well as families impacted by Fetal Alcohol Spectrum Disorder, mental illness, substance abuse, homelessness, incarceration, racism, and oppression.
James G. Ingle '74 M.A. died on February 10. He earned a second master's degree in business from the Thunderbird School of Global Management at Arizona State University. He was passionate about coaching basketball, training for the National Senior Games, and fishing on Lake Superior.
1980s
Kim Eifert Krogstad '83 M.Div. retired in June after serving at First Evangelical Lutheran Church in Redlands, California, for the past decade.
Lawrence Isbell '85 M.Div. received a doctorate in pastoral care and counseling from the Christian Theological Seminary in Indianapolis. His dissertation, "Living the Death of God," focuses on how and when a person's images of God can change, and the impact it has on a person's life. He is the pastor at First Lutheran Church in Columbus, Indiana.
Jeffrey S. Dorman '86 M.Div. wrote the book, "Breakthrough: Unlock Your Potential." He works with many corporations through Breakthrough, a coaching, training, and consulting company.
1990s
Dale Peterson '91 M.Div. retired in December 2021 after serving 16 years at Faith Lutheran Church in Waconia, Minnesota. He is serving as the director of spiritual care at Mount Olivet Home and Mount Olivet Careview Home in Minneapolis.
James Francis "Deacon Jim" McDonald '92 P.Th.D. died on December 3, 2021. He retired in 2018 as director of pastoral ministry at the Glenn of Minnetonka, a faith-based senior community in Minnetonka, Minnesota.
Kevin Jones '93 M.Div. was elected in June 2021 as the bishop of the Northeastern Iowa Synod and was elected in October 2021 to serve a three-year term on the Board of Regents for Wartburg College in Waverly, Iowa.
In November 2021, Leif Espeland '97 M.Div. was installed as the pastor of St. Paul's Lutheran Church in Hackensack, Minnesota. He retired from the U.S. Army and Air Force in 2019 after serving 20 years as a chaplain.
Shauna Hannan '98 M.Div. was inducted into the Litchfield (Minnesota) High School's Hall of Fame in November 2021. The honor recognizes Hannam's nearly three decades in pastoral work and theological studies. Last fall her book, "The Peoples' Sermon: Preaching as a Ministry of the Whole Congregation," was published with Working Preacher Books.
2000s
Gregory Walter '00 M.Div. is a professor and department chair of religion at St. Olaf College in Northfield, Minnesota. He was one of two speakers at St. Olaf's annual Melby Lectures in November. His lecture titled "The Vulnerability of Theology" explored theological questions he has not been able to answer or let go.
Kathy Reid Walker '03 M.Div. is the pastor at First Presbyterian Church in Eau Claire, Wisconsin. The church applied for the 2021 National Clergy Renewal Program through the Lilly Endowment, and was one out of 156 congregations to receive the grant, which allows the church to offer Walker time away from her ministerial duties to inspire renewal.
In September 2021, Daniel Ruen '05 M.Div. accepted a call to serve as co-pastor alongside Jill Rode '14 M.Div. at St. Anthony Park Lutheran Church in St. Paul, Minnesota.
Brandon Perrine '08 M.Div. was installed as senior minister of the New England Congregational Church in Aurora, Illinois.
2010s
In August 2021, Loren Mellum '11 D.Min. accepted a call as senior pastor at Bethlehem Lutheran Church in Fergus Falls, Minnesota.
In September 2021, Felix J. Malpica '13 M.Div. was the youngest and first person of color to be elected as bishop of the La Crosse Area Synod, based out of La Crosse, Wisconsin. Malpica joined the Luther College (Decorah, Iowa) Board of Regents in October 2021.
Brian Beckstrom '06 M.Div., '18 D.Min. was named vice president for mission, church, and ministry at Valparaiso University in Indiana. For the past 12 years, Beckstrom served as dean of spiritual life at Wartburg College in Iowa.
2020s
Shari Howell '20 M.Div. was ordained by the Federation of Christian Ministries and accepted a call as campus director of spiritual care at Woodbury Senior Living in Woodbury, Minnesota.
---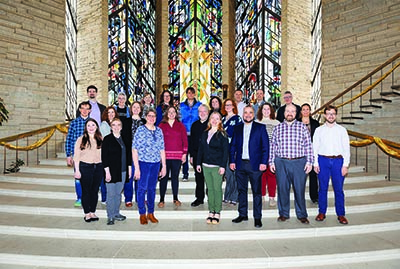 Josh Messner '08 M.A. and his wife, Sally Messner '07 M.S.M. lead the Elm Ensemble, which brings together professional and amateur musicians to lead worship in a variety of congregations. In April, the group presented "In Deepest Night: A Festival of Psalms" for Valparaiso University's Institute of Liturgical Studies in Valparaiso, Indiana.
In addition to the Messners, the following Luther graduates participated in the performance: Becky Swanson '05 M.S.M., Daniel Fenn '09 M.S.M., Elizabeth Damico-Carper '12 M.Div., and Luke Tegtmeier '07 M.S.M. Luther seminarian Sarah Hanson '22 M.Div., who sang in the Institute's schola cantorum, was also part of the psalm festival event.
You'll find videos of the full psalm festival on YouTube, and learn more about the group at elmensemble.org. Elm is both an acronym for Early Lutheran Music and a nod to the importance of the elm tree for the urban canopy of Minneapolis, where the group began.