The need for pastors in rural areas continues to be a call not everyone can answer. Those who do say the ministry is life-giving and fulfilling
Something about Micah Cavaleri '21 M.Div. (pictured) makes total strangers want to spill their guts.
Maybe it's because of his dark eyes that crinkle just slightly at the corners when he smiles, his impulse to thoughtfully consider questions, or his instinct to let quiet moments linger. Maybe it's his willingness to provide details about his life that are sure to invite curiosity and respect, in fairly equal measure.
Cavaleri is an Iraq war veteran, a father to a little girl, and husband to Molly, an associate professor of tree physiology. He's ministered to prison inmates and is a recovering alcoholic. He's a published poet and rural pastor. But mostly, Cavaleri is someone who seems willing to listen to whatever someone wants to say, even when that something is barely anything at all.
It's listening that Cavaleri credits most for his success as pastor of Grace Lutheran Church, a small ELCA congregation situated in Michigan's Upper Peninsula, in a village that took its name, South Range, from the now-defunct copper mines nearby.
In a time when the need for rural ministers is growing, but the supply of faith leaders is declining, Cavaleri goes wherever he is needed, whenever he is needed, to provide faithful guidance and support in the village.
"The church has been here since 1904; the people live and die in it. There are people in my church that have been here 90 years. That's not something you really understand until you're there," Cavaleri said.
The demands of rural ministry are different from those urban and suburban pastors face. A 2018 Pew Research study shows that since 2000, the population has declined in most of the nation's rural counties. And though the number of U.S. residents living in poverty has grown overall, it's highest among rural residents, whose average annual income is about $35,000.
What's more, the number of Americans who identify as churchgoers is declining as well. A 2020 Gallup poll showed that 47 percent of Americans belonged to a house of worship. It's the first time the number has dropped below 50 percent in the eight decades since the group began asking the question. All of that is coming at a time when the number of faith leaders serving rural areas is on the decline.
So, what makes a pastor serve in the middle of nowhere? "It's always about the people," Cavaleri said. "I will always hold close to my heart the importance of people." Even when you don't know those people well at all.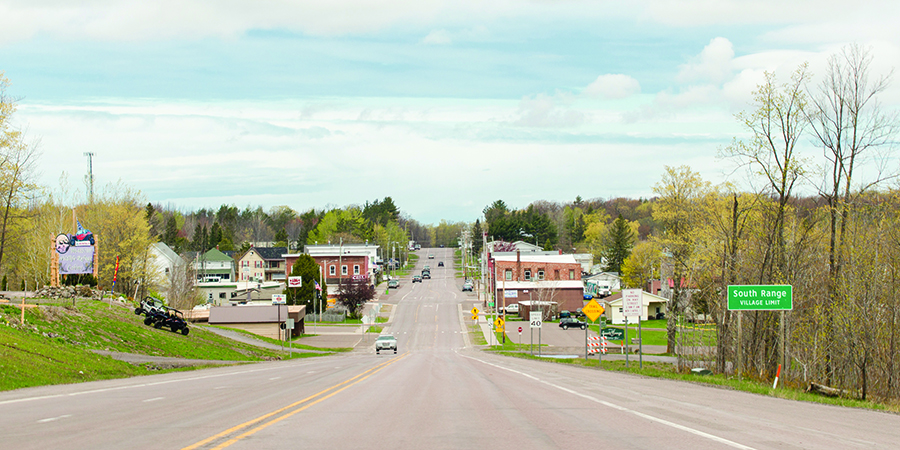 Praying and hoping
It was February 2018 when Arlene Flancher got the phone call every child of aging parents fears.
Her father was in an ambulance, being rushed to a hospital 100 miles away from South Range. Worse yet, Flancher, who lives in the Twin Cities, was facing the seven- hour drive to her parents alone, since her husband was unable to travel after a surgery.
She can't remember much about the drive.
"You're just hoping he's still alive, right?" said Flancher, who is a program coordinator for Luther's Innovation Team. "You're driving on these empty roads. It's the middle of winter. It's just you and the trees, and that's it. You're hoping the phone doesn't ring, because if it rings it's bad news, but you are almost desperate to talk to someone."
When she arrived, she met her mom, a sibling, and a few other family members, and the horrible waiting began.
"There was bad coffee, and I remember being terrified, thinking about what was happening in that operating room," Flancher said. "His whole life was in the hands of the anesthesiologist, the surgeon, the person running the bypass machine. They're cracking his entire chest open. I worked in hospitals for 15 years; I know what can go wrong."
Then without flourish or fanfare, Cavaleri, who had only been at the church a few months, walked into the waiting room and toward Flancher's mother.
"At first I was like, 'Who is this guy?'" Flancher said. "But Mom stood up, gave him a hug, thanked him for coming. To this day, I have no idea how he found out.
"And I thought about this more after the fact, but his vibe and his energy were kindness and love and support. You just knew that he was there, not for himself, not so he could say, 'I drove 100 miles to get here.' He was there because he was
called to be there and sit with us, in the midst of our suffering. He was the light of Christ there in that room."
Cavaleri, Flancher said, took his cues from the family.
And once Flancher's father was returned to his room, Cavaleri's gifts became especially apparent.
"Watching my parents respond to him, even though they didn't know him that well, they were so relieved and comforted by him. I will remember it forever. I will remember Micah as we stood around my dad's bed, and he asked if he could pray for Dad. I don't remember exactly, but I'm sure we were probably all touching my dad.
"His calm presence was just so lovely, and it clearly meant a ton to my parents. I'll always be profoundly grateful for his presence in those moments."
Flancher said the incident caused her to reflect—who would she notify if the situation was reversed, and she was in crisis?
"For rural pastors, relationships are the most important thing," Flancher said. "For any pastor, sure, but for rural pastors especially. They can bring hope and God's love in those difficult moments. That's the most important role for a rural pastor, and maybe to train others to do the same thing. Pastoral care is probably the most important."
Cavaleri made the drive, he said, because it was exactly what he needed to do.
"People have said they find me genuine. They believe that I believe what I'm preaching, and I do. You gotta be hands on. You shovel snow off the roof, or clean tables after meals, or drive 100 miles to sit with someone who just needs comfort.
"You have to work side by side with people. Being a part of Grace Lutheran, every day is a gift. It's a life-giving experience."
They that dwell within
Care in, and for, rural communities is what Jon Anderson '85 M.Div. calls an "ongoing historic project."
As director of rural ministry for Luther Seminary, Anderson echoes what others say about the important roles faith communities play in far-flung regions.
"The rural congregation often operates as an anchor for many rural communities, and that sense of place is very important to people. In rural communities the church has the ability to make a difference in the life of a community in a dramatic way, by forming community and by caring for people in need," Anderson said. "In a rural community, you need to let people know you love the people, you love the place, and you love Jesus."
He said rural is "messy" because there are so many different meanings to what rural is—agrarian, ranching, mining, fishing, and the like. But that's rarely how people see it.
"We often tell one of two narratives about rural people. Either it's ideal, or on the other side, there are a lot of people who feel like it's all going to pot, that everything is dying," Anderson said. "The truth is if you've seen one rural community, you've only seen one. Some are thriving, some are dying, but every situation is unique."
So, too, the solutions to finding faith leaders to serve those areas, Anderson said.
"We're running experiments to try to figure out what the answers to that might be," he said. From brief immersion trips to lunchtime learning sessions for pastoral candidates considering rural ministry, Luther is working to find solutions to the shortage.
"We also need to find ways to be better about finding and developing local leadership," Anderson said. "Where we can find laity to do ministry, or perhaps recognize a call to service."
When that call came for Jaime Decker '21 M.Div., she did everything she could to ignore it.
"I was in confirmation, and my pastor tapped me on the shoulder and asked if I had ever thought of being a pastor," Decker said. "He thought I would do well."
But in high school, Decker had no intention of becoming a minister or staying near her hometown in southeastern North Dakota.
"I went to North Dakota State University in Fargo with pre-med in mind," she said. "I was never planning to move back to this area. I was planning to broaden my horizons."
Decker made plans, and God laughed when she met and fell in love with a farmer from southeastern North Dakota. "You can't move the farm, so …"
Decker found herself living in Gwinner, a 90-mile drive from Fargo.
Still, ministry wasn't what she saw in her future.
"I ran from that call until about three years ago," she said. "Then, I felt this stirring. I wasn't sure what it was, but I was being called to something else."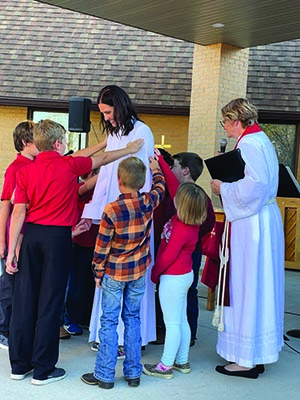 Letting go
Even after Decker started to wonder what might be next in her life, she still resisted ministry. A female pastor at church repeated what had been said to Decker's younger self.
"I totally freaked out at first. I was thinking, 'Why did she say that?' But then I sat with it a little more and the Holy Spirit kept coming back. Finally, I decided to stop running and I said, 'OK, how do I do this?'"
The first step was becoming what's known as a SAM, or a Synodically Authorized Minister. SAMs receive training, but not full-blown seminary, and can perform necessary ministerial duties including offering communion. Then Decker decided to follow the call even farther.
It was far from easy and anything but absolute.
"Oh, I definitely had fear," she said. "I had fear of what people are going to say or think because I've been in this community for almost 20 years. That was a really hard part for me. Even to tell my husband and my own family that 'Hey, I'm feeling like I'm supposed to go into seminary and become a pastor.' I was so afraid. Some people said, 'I totally see that in you, it's about time,' and other people were like, 'Are you sure?' I just had to trust and let go."
Decker said right from the beginning, she worked to let people know she was learning and was eager for any help anyone would give.
"From my own side of it, it was very challenging to step into a leadership role in the church, with it being my people—people I've lived with for 20 years; they've known me in different roles. I feel like I've been very honest with people and say, 'I don't always know, but I can find out,
or we can work on this together, or we can sit with the uncomfortableness of not knowing.' There's a lot of trust you're asking of people."
Decker said looking back she sees where her time as a stay-at-home mom, church volunteer, and school board member helped prepare her for her role as pastor.
"Going from school board to ministry, there's a lot of connection there. I was the first female on the school board in a number of years; it had been male-dominated for  some time. And I was 20 years younger than the men there. That was an anxious moment for me, it took courage and vulnerability. So does ministry.
"The biggest thing for me was to let go of the fear, let go of thinking I had to be perfect and know all the answers and do everything in the perfect way. Showing people that this ordinary girl from our town is showing her vulnerability, is being open to making mistakes and learning from those, walking with them in this journey and not knowing exactly where it will lead. Fear was holding me back, and I had to let that go."
Decker said she still doesn't know all the answers, but she's become a lot more comfortable with the unknown, because of the opportunity it could create for others.
"The longer I've been in it, the easier it is and the more I'm able to laugh with people and laugh at myself. I try to use that as encouragement for other people. I was feeling called; for others, if they are feeling called to do something, I just want them to say forget the fear."
She said often church is perceived as a place where perfection is the only option. Decker doesn't see it that way.
"God has a sense of humor because God put me here, and I think maybe that's my ministry: for people to see me and accept calls when they come. The relationships here are everything. Ministry in a rural setting isn't a one-size-fits all. There are a lot of challenges and a lot of blessings.
"The beauty that often gets overlooked when someone thinks about 'rural' is the people, the amazing people. It might be small, it might be freezing cold here in North Dakota, but it's the people who keep you here and keep you doing the work."