Pastors preach sermons and visit the sick. They officiate weddings, serve on committees, and guide mission trips.
Some post thoughtful blogs and dynamic social media reels, while others facilitate book clubs and lead fundraising campaigns. And many pastors might say this is a short list.
"For far too long, the church has been led by people who tackled the life, weight, responsibility, and possibility of ministry on their own," said Aly Kohlmeyer '21 M.Div., associate pastor of Cross of Christ Lutheran Church in Broomfield, Colorado.
Pastoral pressures are increasing, and the result is higher-than-average rates of diabetes, obesity, blood pressure, and arthritis, according to Duke's Clergy Health Initiative. In March 2022, research firm Barna Group reported a spike in burnout, with more than 42% of pastors ready to quit full-time ministry due to "immense stress" brought on by isolation, loneliness, and political division, among other stressors.
And even though the percentage of clergy with elevated anxiety symptoms doubled between 2016 and 2021, more than 80% of ministers still feel guilty because they believe they aren't doing enough in their role. But Kohlmeyer is among a growing cadre of pastors resisting an all-consuming call. Each month, she meets with a Faith+Lead coach to talk in confidence about self-care and balance, conflict management strategies, her spiritual discipline, leadership skills, congregational transformation, and more.
"We become better leaders when we invite a variety of people to walk alongside us. My coach takes notes about what we discuss and sends them to me to reflect on our time together," said Kohlmeyer, who was in the first cohort of Luther's innovative, accelerated M.Div. pilot program, MDivX. "She is invested in helping me develop as a leader, rather than simply dealing with acute scenarios in ministry. Her coaching support is holistic and valuable."
Coaching for all church leaders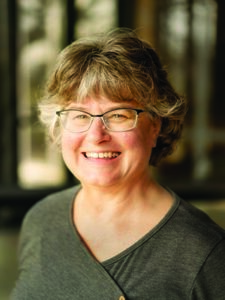 Dawn Alitz '09 Ph.D. loves to hear from Kohlmeyer and others that they feel heard, challenged, and connected through the Faith+Lead coaching program, which Alitz has led since January 2020. The program links seasoned, trained coaches with pastors and congregational leaders who wish to strengthen personal growth and professional acumen, Alitz said. Together, they engage in a process of discovery, goal setting, and strategic planning.
"One of the main points we want to convey to pastors is that coaching is not only for people in crisis," she said. "While some people do find coaching because they are in struggle, coaching is most beneficial when it is an ongoing conversation—in good times and bad—that provides a sacred space for leaders to deepen their self-knowledge and awareness of God's movement in their personal and vocational life."
The program is growing in size and scope. Clergy Coaches was developed in 2000 through a partnership between Fairview Health Services and Lutheran Social Service of Minnesota, in collaboration with ELCA synods in and near the Twin Cities.
In 2020, the program became part of Faith+Lead— Luther Seminary's learning hub for lay and ordained ministry leaders who seek in-person, live online, and on-demand learning experiences. Faith+Lead's global reach and innovative mission made it an ideal host for this effort, and its focus on Faithful Innovation involves elements of coaching. As Faith+Lead programs grow, so does coaching, Alitz said.
Faith+Lead offers inclusive services
The Faith+Lead coaching model is unique in that it provides wraparound services for coaches and those seeking a coach. Rather than simply providing pastors and lay leaders with names of coaches in the area, Faith+Lead matches individuals with ideal coaches, manages the invoicing and payment of coaches, and provides ongoing support and resources to both parties.
"We let the coach coach rather than having to deal with invoicing and the like, and we walk alongside people in need of a coach to remove the guesswork and coordination they'd have to navigate on their own," Alitz said. "Generous donors have enabled us to provide leaders and congregations with scholarships to assist in paying the coaching fee."
The program also trains new coaches. Alitz trained the first cohort of Faith+Lead coaches in September 2021.
Since then, the program has prepared more than 100 instructors through a 16-hour course over eight weeks. In January 2023, Faith+Lead will offer its first credentialing pathway course, which will span nine months, to prepare participants who seek credentials through the International Coaching Federation.
"The basic coaching course equips participants with the skills and resources needed to be a coach, to be a thought partner to help pastors and lay leaders navigate complex and demanding roles," said Alitz, who previously served as the director of Luther Seminary's Center for Lifelong Learning. "But some coaches want to expand and enhance their coaching and possibly serve full time. We are expanding our offerings to support that growth."
Coaching the Next Generation of Christian Ministry Leaders

 What leaders are telling us

Ministry leaders must be able to lead adaptive change with a missional imagination, attend to their own spiritual needs, and reimagine core aspects of ministry.

This work is difficult to do on their own. They need companions—peer and coach—to support and encourage them in the reflective and leadership development required at this time.

What coaching offers

For ministry leaders:

Highly personalized coach selection, as caring staff match leaders with trained coaches
Accessibility to a diverse group of leaders, including non-English speakers
Affordability to all leaders, regardless of the size of their congregation, their role in the church, or their geographical location

For coaches:

High-quality coach training sessions at an affordable cost
Opportunities for coaching skills to be utilized, honed, and developed in service of the church

Spaces to connect with other coaches
Clergy coaching takes root in Minnesota
Troy Pflibsen, director for Evangelical Mission for the Southwestern Minnesota Synod, is a believer. In 2021, he left a nine-year stint at Zion Lutheran Church in Litchfield, Minnesota, to take on this administrative role to help congregations from Ortonville to St. Peter achieve vitality and progress. Coaching, he said, is central to that mission.
"Coaching pulls together much of what I have read about and experienced during 25 years of ministry," he said. "The practice has long been a staple in the business world for leaders to achieve continued growth and success. It's about time we have adopted and adjusted this model to address the needs of church leaders and congregations. I truly believe this effort is one of our most critical ministries for the healthy and hopeful future of the church."
In late November, the synod will roll out a major push to enroll leaders in one-on-one coaching and congregations in group coaching experiences. "This work is for everyone, but particularly for rural pastors who seek collaboration and support, for pastors learning their way through their first call, and even for senior pastors in transition—whether that be a merger or shift from a solo pastorate to a multi-staffed congregation," he said. "We also offer ministry teams coaching, which is tremendously important as we emphasize more shared governance and responsibilities in congregations. The future of the church will take all of us playing an active role, and coaching ensures that all our leaders will lead with confidence, connections, and expertise."
Coaching is for healthy leaders, too
John Martinson '70 M.Div., '83 D.Min., couldn't agree more. The former supervisor of Ministerial Health for Fairview Hospitals in the Twin Cities led Clergy Coaches for years before the program transitioned to Faith+Lead. Many saw clergy coaching as an option for pastors who were at the end of their rope or "unhealthy." He is thrilled the practice is emerging as an option for all leaders who want to lead healthy, focused personal and professional lives.
"Many of the emotional struggles and the conflicts church leaders face are unnecessary because they come down to a lack of support and space to talk, reflect, and refocus," he said. "No one arrives at the point in life where there is nothing more to learn. Certainly, we don't emerge from our formal education with everything we need to be the best possible versions of ourselves. This is true in every arena of life, especially while the pastoral culture of independence, of going it alone, still persists."
Martinson, who continues to support Faith+Lead Coaching in his retirement, said the best coaches are empathetic, naturally curious, and active listeners. They ask thoughtful, open-ended questions and understand that good questions have greater value than good advice. Good coaches help set goals and serve as an accountability partner. They challenge leaders and are holistic in their guidance and support.
It's not a destination but a journey
Alitz is hopeful for this trusted, confidential relationship model to keep evolving and growing to meet the demands of a rapidly changing landscape. She continues to explore new business models to reach more people at lower costs. Her team is working to ensure coaches are diverse and include non-English speakers, and that Faith+Lead coaching is accessible to all congregations, regardless of their size and geographical location, and to all leaders, regardless of their role in the church.
Faith+Lead is Luther Seminary's connected hub of digital properties, learning opportunities, coaching, and leadership resources alongside the degree programs in order to connect and educate learners and leaders to know the difference Jesus makes and equip them for God's calling in their lives and communities.
"We're running an experiment to offer coaching cohorts directly after Faith+Lead courses, so participants can move right into applying the lessons learned in the course
to their daily lives, with the help of a coach to keep them accountable and focused," Alitz added. "We are also working to gather more coaches, and to connect our existing coaches through monthly Coaching Connection online meetings that provide them with additional education and a safe space to share their experiences."
Kohlmeyer said Faith+Lead Coaching has improved the quality of her life and work, and she is eager to continue to grow in the practice.
"Coaching helps me better gauge where to invest my time and energy and, better yet, feel more confident about those investments. Each year, my coach and I revisit our contract and mutually renew it if it suits us both well," Kohlmeyer said. "I have always had a heart for ministry, to walk with God's people through the ups and downs of life. With coaching, I can continue that work without fear of fatigue."
Visit faithlead.org/coaching/ to learn more about Faith+Lead Coaching and request information about how to become a Faith+Lead coach or connect with expert coaches.