Content warning: This story discusses suicidal ideation.
Todd Peperkorn had a well-conceived plan: Immediately after co-celebrating a community-wide Good Friday service, he would say his goodbyes, slide behind the wheel of his white Honda Accord and then, under an early-spring sky, drive off a rural Wisconsin bridge.
It was Holy Week 2006.
"I was definitely not thinking about Easter, about the opportunity to rise up from my darkness. Mental illness makes it so you curve in on yourself, so you can't see what's happening outside of yourself. And if you do see beyond it, it's this circus mirror. It's not real."
Peperkorn, 52, bares his soul, offering insight into a time in his life he nearly didn't live to tell about. A series of closely consecutive events—his mom's death, a miscarriage his wife suffered, and his uncle's death— kept him thinking about suicide.
But one phone call moved him from thinking about his death to planning it.
"At that point in time, I was on half-time disability, which is a really stupid idea in general. But that morning, I got a phone call from my insurance company and they determined I was no longer sick. I can still hear the woman on the phone, and she said, 'I see you've been off disability for a couple of weeks, congratulations.' Hearing that I thought, 'OK, I'm done. I have to wrap things up. How do I get out?'"
So, he made a plan.
He intended to see it through.
But when he walked into church on that Friday in 2006, he told his pastor friend what he was planning to do.
"After that, he didn't let me out of his sight." Peperkorn, ordained a pastor in Lutheran Church–Missouri Synod in 1996, serves as an assistant professor at Concordia Theological Seminary. He openly tells his story and wrote about it in his book, "I Trust When Dark My Road: A Lutheran View of Depression."
His story has become his searchlight. Over the years as he's been talking about his depression and anxiety, Peperkorn said pastors and others in ministry are getting better about talking about mental illness.
"But there's a long way to go."
What happens if …
Increasingly, clergy and other faith leaders report they are not OK. A 2021 survey by Faithlife, a Bible software company based in Bellingham, Washington, found that 1 in 10 pastors had contemplated suicide sometime in the past year.
The October 2021 pastors poll conducted by Barna Group, a company that researches faith, life, and culture, reported that just 1 in 3 pastors self-report being healthy, in terms of their mental, physical, and emotional well-being. That same survey of 500 pastors revealed that nearly half—46%—of pastors under the age of 45 were seriously considering leaving full-time ministry work due to feelings of burnout and a perceived lack of support.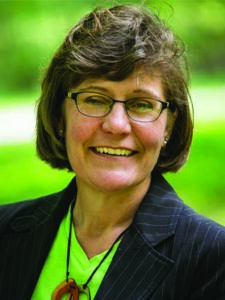 Pastor Hollie Holt-Woehl '93 M.Div.,'07 Ph.D. specializes in pastoral care and ministry. She teaches a course at Luther Seminary that helps students learn how to identify and provide support for those with mental illness. In the 30 years that she's been ordained, she said, she's seen more awareness of the need to provide mental health support for clergy, but that recognition hasn't translated into much action.
"We're talking about it more, we really are. But we're having a hard time, in the church, seeing how that plays out."
One of the biggest challenges, Holt-Woehl said, is the threat— real and imagined—about what happens to a pastor who divulges personal mental health information to a congregation. Because in many churches, she said, churchgoers aren't able, or even willing, to view their pastor as human.
"We're always looking for the savior in the church, but we're looking everywhere but Jesus. We want butts in pews and dollars in the collection plate. We don't want to be challenged—baptize us, marry us, bury us, and just give us a nice sermon every once in a while."
"It's so important to remember, to really remember, that we are all God's children, created by God and loved by God in our own uniqueness. God likes us messy. This is how we listen to one another, to remember people are doing the best they can, and they are loved by God."  —Hollie Holt-Woehl '93 M.Div.,'07 Ph.D.
In some congregations, pastors who openly share about their mental health journey face the very real consequence of being removed from their call and "blacklisted," she said. "So, as pastors, how do we teach our people? How do we come alongside them and move them? How do we give ourselves permission to try things? I'm just thinking it takes more trial and error and being OK with error, because error isn't failing."
Peperkorn agreed.
"There are so many things working against a pastor getting to that point (of sharing)—the stigma, the fear, being looked down upon, being perceived as weak."
But there's also a unique opportunity for the church community as a whole to grow, he said.
"When a pastor gets it, and realizes they are not Jesus and don't have to be perfect … I don't mean that they are reveling in sin, but realizing that God uses broken people just like me to do some of His best work," Peperkorn said.
Stop the stigma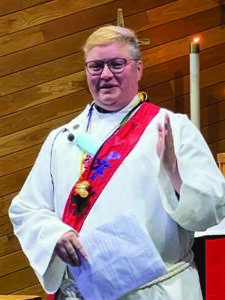 Support shouldn't be reserved only as something pastors do for their congregations, said Deacon JJ Godwin '22 M.Div., executive assistant to the bishop in the Sierra Pacific ELCA Synod in Oakland, California. Godwin, who specializes
in mental health chaplaincy and peer support, said for systemic change to happen, it must be top down, bottom up, and middle out.
"There is a solid fear of being brought up on discipline charges because you are not perfect," they said.
"So, what is preventing people from taking that step of disclosure and sharing? I think it's permission. I don't think the institutions will do it. The bishops need to say, 'We need a class every single year that requires us to discuss mental health within ourselves and within our pews,' and move forward from there."
And more work needs to be done, Godwin said, to normalize conversation around mental health.
"We need to name it, claim it, remove the shame of it, and create community around it," they said. "It takes time. But it's hugely critical."
Fellow Luther Seminary alumnus Steven Lee '21 M.A. echoed Godwin's concerns.
"There's a shortage of pastors and faster turnover, and often the reasons why are the pressures put on pastors," Lee said.
Pastors, especially in small or rural churches, are expected on some level to be experts at just about everything, Lee said.
"They have to be good at finances and manage a budget, be good at public relations and communications, be handy enough to make minor building repairs, and be technologically savvy enough to successfully stream services. Then, if something like COVID happens, who picks up the slack? They are already working a 65-hour week, after being promised a 50-hour week."
Lee said with no end in sight and no ability to get help, pastors self-select out of their calling, or worse.
"I have not met a single religious leader of any kind who didn't wish they had more emotional support than they do," Lee said.
Big "C" church adoption
Whole-church change is exactly what's needed, agreed Joy Hensel '07 M.A., the Northeastern Minnesota Synod minister for mental health and wellness.
"The exhaustion clergy experience from always being 'on' … I'm not sure people really grasp the expectations of clergy the last few years. It's the weight of the community, plus your own personhood. Because of that type of exhaustion, it's hard to reach out (for help) because it's one more thing you have to do.
"It's such a deeply rooted systemic change that needs to happen, but where does that change begin?" Hensel said.
It may start, she said, by helping pastors get comfortable, or giving them permission, to share their leadership burdens. "Let them know they can create teams they trust within their churches so they can let go of some of the control. Who can they find within the congregation to partner with, to invest in a relationship with that is beyond clergy/churchgoer? "Somehow we have to break down this idea that clergy have to do it on their own."
Educating, equipping, and empowering others can help clergy create space for themselves to breathe, she said. What's more, it's important that clergy be reminded they are "called and claimed."
"It goes back to our baptism and remembering the promises of baptism. God calls us by name, in abundant life, living as a new creation. But if we aren't tending to ourselves, how are we living into our baptism? How are we living into this abundant life that God desires for us, that God wants for us so we can serve others? It's the classic scenario when you get on a plane, you're instructed to put your own oxygen mask on first if anything happens, because without it, you'll pass out before you can help anyone."
Holt-Woehl said that permission can remind pastors of their purpose.
"Most people go into ministry because we want to help people, so we think if we care for ourselves, it's selfish. But I say that most of us in this business will never care for ourselves more than we care for others," Holt-Woehl said.
"It's so important to remember, to really remember, that we are all God's children, created by God and loved by God in our own uniqueness. God likes us messy. This is how we listen to one another, to remember people are doing the best they can, and they are loved by God."
A new day
It's been 16 years since the day Todd Peperkorn planned to drive off a bridge.
"I got through the day and ultimately, thanks to my wife and my own pastor, got connected to my counselor. We developed a plan that was inclusive and wasn't trying to just Band-Aid things. That forced me to be very public about what was going on."
This event changed everything about how Peperkorn pursued his ministry, including how he helps people understand that faith is exactly what the Bible says it is: the assurance of things hoped for, the evidence of things unseen.
"We often treat faith as if it is an act of willpower. When I treat faith like, 'OK, if I surround myself with better people, develop a plan to improve, develop good habits …' I haven't described faith, I've described Weight Watchers."
For people of faith, it's very hard to have a conversation about mental health without ending up in a conversation of faith, he said. He'll keep telling his story, to remind anyone who will listen that everyone is made in God's image.
"Talking about my despair has opened more doors than anything else I could have done. Portraying myself as a super Christian—all that does is tell people they're not good enough. Actually speaking about my own brokenness and my own problems opens doors to the people.
"The role of community in mental health is critical. Isolation is the result and the cause of mental illness; community means well-being more than anything else. Community has to start with just one other person, and not with any expectation of massive change," Peperkorn said.
"It just has to start with one."