Professor Terri Elton, dean of academic affairs, was called to serve as pastor of hybrid ministry at Lutheran Church of Peace in Maplewood, Minnesota, beginning in October 2022. This call is a quarter-time position that provides opportunities for experimentation and learning.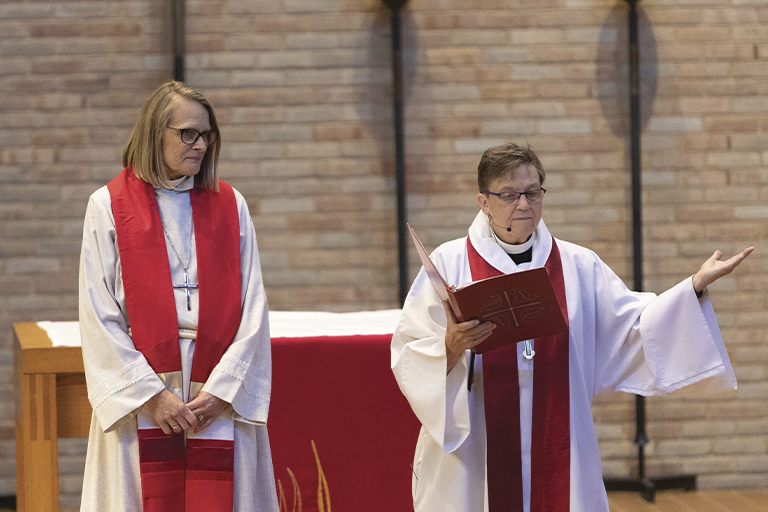 Elton will continue to serve as a professor and dean at the seminary with the support of key staff in the Office of Academic Affairs and Faith+Lead. In sharing the news with the seminary community, President Robin Steinke said, "What is exciting are the ways in which Professor Elton will be living out the realities of ministry that continue to shape our mission, vision, and values here at Luther. Her experiences in bivocational ministry will shape the way she leads as dean of academic affairs, and likewise, her practices here at Luther will inform her ministry at Lutheran Church of Peace."
Prior to coming to Luther Seminary, Elton served 16 years at Prince of Peace Lutheran Church, Burnsville, Minnesota, and three years in the Saint Paul Area Synod. So, in many ways, this call brings Elton back to her roots in congregational ministry. Elton shared, "It is with humility and joy that I step into this call. I am so excited to join the Lutheran Church of Peace community and to see where the Spirit leads us. I believe serving God's church in this way will enhance my leadership at both Luther Seminary and Lutheran Church of Peace."
Leon Rodrigues has been named the seminary's permanent dean of students and vice president for inclusion and belonging, following eight months as interim dean of students.
Andrew Root, Carrie Olson Baalson professor of youth and family ministry, is the author of "The Church After Innovation" (Baker Academic), published in September. This is the fifth book in Root's Ministry in a Secular Age series.
Two staff recently celebrated significant milestone anniversaries at Luther Seminary. Bill Silva-Breen, director of financial aid, has been with Luther for 25 years. Marie Hayes, director of international student and scholar affairs, has been with Luther for 30 years. We give thanks for their faithful service to the seminary.
Jeanne Frerichs died on June 30. She was a former staff member in development and the widow of Professor of Old Testament Wendell Frerichs '51. Together, they established the Wendell W. and Jeanne D. Frerichs Luther Seminary Endowed Financial Aid Fund to support future generations of Luther Seminary students.
Carol L. Johnson, former administrative assistant for the doctoral program, died on July 3. She loved to travel and was active in her church, synod, and local community. Following her retirement from Luther, she moved to Sioux City, Iowa, to be near family.