The Garden of the Resurrection has been relocated to a space at the heart of campus, outside the Olson Campus Center. The move ensures a permanent home for the garden on campus after the Luther Seminary Board of Directors approved a future sale of the lower campus in 2018.
To acknowledge the move and honor the garden's original grounds behind Northwestern Hall, the seminary held a service of remembrance on All Saints Day 2022. Families of those laid to rest in the original garden gathered some soil to be replanted in the new garden.
"Those committed to the grounds remain, forever, in God's eternal care," said Luther Seminary's Pastor Jeni Grangaard '09 M.Div. The original garden's bronze sculpture, created by Jeff Barber '82 M.A., has been placed in the new garden.
Since 2001, the Garden of the Resurrection has offered a place to lay to rest faithful friends of the seminary. In its new location, the garden will continue to serve this purpose for years to come.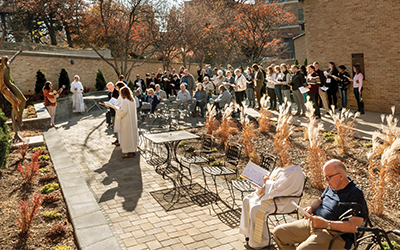 Read more from Summer 2023