Awesome Mystery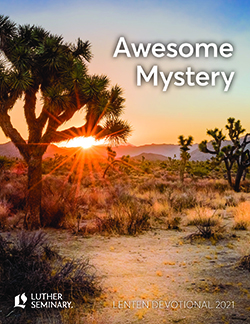 Luther Seminary invites you to use the 2021 Lenten devotional, "Awesome Mystery" for personal or congregational use throughout the Lenten season.
Download PDF
Download Large Print PDF
This year's contributing authors from Luther Seminary are:
Josef Aalbue '70 M.Div.
Michael Chan '09 M.A.
Assistant Professor of Old Testament
Lois Malcolm '89 M.A.
Professor and Olin and Amanda Fjelstad Registad Chair for Systematic Theology
Jennifer V. Pietz '13 M.Div.
Visiting Assistant Professor of New Testament
David Scherer '15 M.A.
Contextual Learning Associate
Kathryn Schifferdecker
Professor and Elva B. Lovell Chair of Old Testament
Mark Tranvik '92 Th.D.
Professor of Reformation History and Theology
The theological editor is James L. Boyce '71, Professor Emeritus of New Testament and Greek. The editorial coordinator is Bethany Riethmeier, Donor Engagement Coordinator.
During the season of Lent, the daily God Pause devotion will be taken from "Awesome Mystery" If you are already a God Pause subscriber, you will continue to receive the daily devotions in your email inbox February 17 – April 4, 2021.
If you're not a God Pause subscriber, you can sign up here and select "God Pause Daily Devotions" to receive "Awesome Mystery" in your email inbox. Once Lent ends, you'll continue to receive daily God Pause devotions written by Luther Seminary alumni.