Luther Seminary embraces innovation, and its established practice of using technology to educate leaders for Christian communities has proven effective during the COVID-19 pandemic.
One way the institution has fostered community and learning during this time is through the digital technology of podcasts, increasingly popular on-demand audio programs that users can stream or download on a smartphone or computer.
Working Preacher, a ministry of the seminary designed to help pastors become better preachers, has been producing podcasts for years. Since the beginning of the pandemic, Luther has added new podcasts to enhance worship and help church leaders better minister during a time of turmoil.
Sermon Brainwave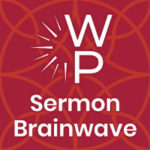 Working Preacher offers two podcasts: one on the Revised Common Lectionary and one on the Narrative Lectionary. These podcasts are designed to help preachers enrich their preaching by deeply engaging with the assigned texts. "Sermon Brainwave" covers the Revised Common Lectionary; Luther Seminary professors Rolf Jacobson '91 M.Div., Karoline Lewis '94 M.Div., and Matthew Skinner join Academic Dean Joy J. Moore in discussing the assigned texts, including alternate texts, for the coming Sunday.
What listeners say: One reviewer on Apple's "Sermon Brainwave" page wrote, "This podcast is a great way to begin to wrestle with the text for the upcoming week's sermon. I would recommend this podcast to any preacher who takes his or her craft seriously."
I Love to Tell the Story: Narrative Lectionary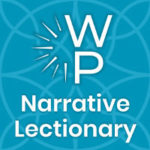 Created by Working Preacher, "I Love to Tell the Story" is a podcast on the Narrative Lectionary, a four-year cycle of readings that follows the sweep of the biblical story. This lectionary, initiated 10 years ago by professors Jacobson and Craig Koester '80 M.Div., offers a narrative sequence and shows the variety of voices within Scripture, similar to Koester's Genesis to Revelation course, which he taught at the seminary for decades. (See "Becoming part of the biblical story" in the Summer 2020 issue of Story magazine.) Each weekly episode features a conversation between Luther Seminary professors exploring the text for the coming Sunday. The podcast frequently features professors Jacobson, Koester, and Kathryn Schifferdecker, and others, including Cameron Howard, Lewis, and Skinner, have appeared.
What listeners say: Pastor Alan, a reviewer on Apple's page for the podcast, said, "The conversation held by these three professors around each selected text is a wonderful model for preaching in and of itself. As they talk about these passages, they are careful to let the gospel inform our life today rather than allowing us to determine what the gospel should have said. They also do a wonderful job of bridging the 2,000 to 5,000 years between us and the Gospels, letters, and Hebrew scriptures. They really help me find those connections and share them with the congregation. It is a must-listen."
Wilderness Time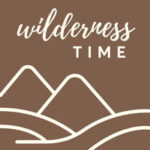 This limited series from Faith+Lead, hosted by Dwight Zscheile '08 Ph.D., vice president of innovation and associate professor of congregational mission and leadership, and Stephanie Spellers, canon for evangelism and reconciliation for the Episcopal Church, explores the unfamiliar territory, adaptations, and possibilities facing churches now. Episodes include "Welcome to the Wilderness," which uses biblical wilderness narratives as a framework for the present situation, and "The Gospel in the Neighborhood," which discusses how church members can engage in evangelism during the COVID-19 pandemic and beyond.
What listeners say: One reviewer said, "Although we all seem to be wandering in the wilderness at this pandemic time, it was affirming and informative to listen to the discussions each week. I found hope … for my church to forge forward in new and exciting ways."
Pivot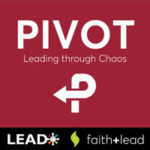 "Pivot" is a podcast cosponsored by Faith+Lead and LEAD (Living Every day As Disciples). Hosted by Professor Terri Elton '98 M.A., '07 Ph.D., it was born out of the pandemic as a way to come alongside ministry leaders as they lead in the midst of disruption. The episodes examine how Christian leaders can use times of turmoil to reimagine how they think about church, ministry, and leadership. Episodes include "Loss and George Floyd," "Exhausted in the Wilderness," and "Permanent Whitewater."
What listeners say: Pastor Beth Ann L. Stone wrote, "Thanks for mentioning the exile story in Jeremiah on the 'Pivot' podcast several weeks ago. The idea of living where you didn't choose really stuck with me. A  week after hearing the podcast, this passage came up in my Bible reading chart, which told me God wanted me to pay attention!"
Faithful Adaptation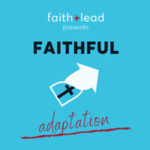 Hosted by Dan Bielenberg '20 M.Div., this podcast was designed to help church leaders navigate the challenges facing churches during the pandemic. Sessions involve time for listening to God and listening to others through Lectio Divina (a meditative reading of Scripture), expert interviews, or small group dialogue. "Faithful Adaptation" covers topics such as how to build community during physical distancing, how churches might handle online worship as they reopen their buildings, and how to talk about money and stewardship during a crisis.
What listeners say: One reviewer wrote, "So useful. The ideas and advice in this are helping us minister right now."
The Liturgy of the Hours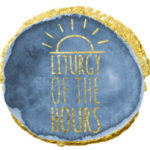 This podcast is created by the Luther Seminary Pastor's Office and Campus Ministry at Augsburg University in Minneapolis. It offers listeners the opportunity to participate in an ancient practice of daily prayer and is designed to meet people where they are, helping them to get away from their screens. The second season began September 22 and focuses on Matins, morning prayer.
What listeners say: "I have recommended 'The Liturgy of the Hours' podcast to students, shared it on Facebook, and shared it with my church," said Professor Mary Hess. "When Supreme Court Justice Ruth Bader Ginsburg died, I listened to one of my favorites: the Seventh Sunday After Pentecost with Zach Busch '11 M.S.M. and Jearlyn Steele '22 M.A. The psalms, the readings, and the music soothe my anxieties. Even when I can't discern what God may be doing, the podcast reminds me that God is always with us. I find myself humming the music even after I'm done listening; it becomes a kind of Spirit-filled prayer for me."
Listen to these audio programs and more wherever you subscribe to podcasts on your smartphone or computer.