Inside Luther Seminary's 'holy experiment,' a 24-month accelerated Master of Divinity program that cuts students' costs and class time—and could usher in a new era of education for Christian leaders
Clinical psychologist Ricardo Jimenez-Reyes '21 M.Div. spent the better part of 2017 counseling his Puerto Rican neighbors after Hurricane Maria pummeled the island. Churches worked alongside his team, "but pastors provided a type of hope and healing we, as counselors, could not," he said. As loud and fierce as the storm, Jimenez-Reyes heard God's call to ministry training through seminary—again.
"As a fourth-generation Lutheran, I had wanted to be a pastor since I was a boy. I entered seminary at age 21 but left once I accepted I was gay. I needed to find myself, and the church did not ordain openly gay individuals at that time," he said.
Nearing 50, Jimenez-Reyes researched seminary programs but quickly became discouraged. With three degrees and 20 years of counseling experience, the idea of spending four years on a traditional seminary education seemed daunting, particularly since he was still paying off loans from his doctoral program. Asking his husband to relocate for seminary, then to possibly relocate again for a pastoral internship seemed even more prohibitive.
Then, Jimenez-Reyes came upon a holy experiment. In 2018, Luther Seminary opened enrollment for an accelerated Master of Divinity program, called MDivX, which enables students to earn a degree in 24 months through year-round classes and concurrent part-time congregational internships. That July, Luther's largest gift in history—$21.4 million—funded the pilot of this innovative program to reimagine theological education. The gift, from long-time Lutheran donors Dean and Rosemarie Buntrock, provided students with full-tuition scholarships and stipends for books, computer software, and living expenses.
Jimenez-Reyes was among the first to apply. He and about 30 other students from across the nation made up the inaugural cohort, which began in June 2019. They tore through Christian history books and dissected theological frameworks while engaging in a mix of online and high-flex courses with the occasional intensive course of 40 hours in one week at the seminary. "When you go through an experience like this," Jimenez-Reyes said, "you become like family."
Cohort camaraderie
Those bonds were especially constructive when talking through issues and revelations that happened during the cohort's full-time pastoral internships. Jimenez-Reyes, a native Puerto Rican, shared perspectives and practices with the predominantly white congregation of Christ the King Church in Universal City, Texas. "I brought my accent and my culture, sharing practices like prayer with the Anglican rosary and prayer through art," he said. "And I brought my past as a psychologist, which informs the way I approach discussions."
"The power of true healing and what that may look like varies from person to person, but it starts with providing an authentic safe space."
—Lori Fuller '21 M.Div.
The psychologist listened as Lori Fuller '21 M.Div., a classmate, talked about navigating leadership roles as the only Deaf person at St. Matthew's Lutheran Church in Ocala, Florida.
"I am called to minister to the Deaf community, which is 95% unchurched," said Fuller, who worked for 10 years as a senior vocational rehabilitation counselor for the Florida Department of Education. "Through my internship, I've learned you don't always need to speak the same language. The power of true healing and what that may look like varies from person to person, but it starts with providing an authentic safe space."
Another classmate, Dustin Haider '21 M.Div., said he worked to create that authentic safe space through improved communication. The pandemic hit during his pastoral internship at Lutheran Church of the Good Shepherd in Minneapolis. Haider relied on his bachelor's in rhetoric and composition and master's in business administration to employ personal and meaningful ways to connect with parishioners.
"I wouldn't be here, doing this work, if it hadn't been for this accelerated program. I just couldn't dedicate four years to complete the traditional degree, and I love learning in context."
—Dustin Haider '21 M.Div.
"I wouldn't be here, doing this work, if it hadn't been for this accelerated program. I just couldn't dedicate four years to complete the traditional degree, and I love learning in context," said the 35-year-old former educator, who lives in Bloomington, Minnesota. "When we went virtual, I spoke to the value and need for caring through communication. I helped with letters, calls, emails, and personalized online engagement. They taught me how a church team can work together in ways that are positive and uplifting. It felt like I was meant to be there at that time."
Pastoral partnerships
The full-time internships built into the MDivX program galvanized meaningful connections with site coordinators
and congregations as well. Dennis Koch has worked with seminarians for 16 years but said he was especially eager to oversee Fuller as she engaged in work that "cannot be taught."
"I knew that the traditional way we sent a student to seminary did not work well for many people, and that we should, as a church, be considering alternative methods of education to open the seminary doors for those who had the gifts for ordained ministry, but who could not, because of life experiences, be part of traditional seminary education. I was excited to be part of something new and innovative," said Koch, who serves Good Shepherd Lutheran Church in Hernando, Florida. "The biggest lesson I hope Lori has learned is that she is not alone. There are plenty of people around who will be there to help and support her once she is ordained and is serving a congregation."
Mike Widner '02 M.Div. oversaw Jimenez-Reyes. It was a gift in multiple ways to the pastor, who had also earned a graduate certificate in youth and family ministry at Luther in 2002.
"Without this program, our congregation would not have received this opportunity to be a part of Ricardo's formation because we simply couldn't afford to be an internship site," said Widner, who has served Christ the King Lutheran Church since 2015. "But, it was also a gift through the skills, talents, and passions Ricardo brought to us. He has helped me reflect on many different areas of ministry that previously I just performed, having 'forgotten' some of the purpose, meaning, and alternatives. Additionally, he brought a genuine desire to investigate as he questions and ponders. To the congregation, he brought many new-to-us prayer practices and disciplines. He has opened the eyes and hearts of many."
'It can be done'
Professor Rolf Jacobson '91 M.Div. loves hearing the positive reactions from students and churches. After all, he devised the program for them: "Fewer and fewer people are able to respond to God's call to ministry, and this program puts the needs of congregations and students first," said the professor of Old Testament and Alvin N. Rogness Chair of Scripture, Theology, and Ministry.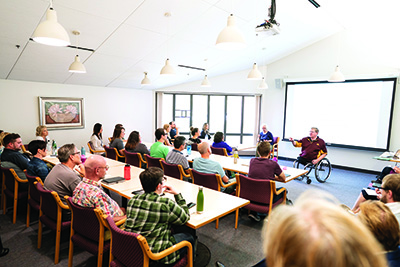 Jacobson said the idea brewed after he witnessed the "togetherness" and "intentional design" of Augsburg University's accelerated master's programs, especially the physician assistant program. He began studying the benefits of the year-round cohort model, where students take classes in lock-step and professors have a better sense of the sequence of classes. He dove into educational models that pair practitioner hours with classroom study.
"MDivX is not intended to be the only pathway, but the pilot proved a two-year program can be done and done well. We estimate the program can save students $100,000 in lost earnings, and with the decline in candidates for ordained ministry, it is a model worth considering," said Jacobson.
Jacobson serves on the seminary's Innovation Leadership Team, whose members will continue to reflect on how lessons learned from the program can enhance and evolve the seminary's existing curriculum, pedagogy, and programs. The pilot started under the oversight of Dwight Zscheile, vice president of innovation. Despite the disruptions of 2020 and 2021, the pilot program welcomed its second and third cohorts.
"The MDivX experiment sought to increase both accessibility and quality of education by reducing time to completion and integrating a congregational internship throughout the degree," said Zscheile, also an associate professor of congregational mission and leadership. "It builds on what we've learned over the past few decades in our distributed learning program, which brings the education to where students already live and highlights the pedagogical value of cohorts. The MDivX reinforces that a deep integration of theory and practice serves student learning."
ELCA Leaders as well as Luther Seminary administrators and professors have expressed their enthusiasm for the process and outcomes of the MDivX program.

"X stands for exceptional, excellent, accelerated, exceptionally prepared pastors to lead the changing church in new and innovative ways. We're really excited we get to gift this experience to a new generation of students. Together, we can create and help form the kinds of leaders that are needed in very different contexts across this country. There will be transformative outcomes, and we are committed to doing that together with the church."

—Robin Steinke, Luther Seminary President

"This program will help people grow deep in the faith. The students saying 'I'd like to try this' are risk-takers and innovators. Part of the reason they will be able to do the work that needs to be done is because they are willing to take risks themselves."

—Jon Anderson '85 M.Div., Bishop of the ELCA'S Southwestern Minnesota Synod
With the program well-established, Luther Seminary transferred oversight of the program to Joy J. Moore, vice president of academic affairs and academic dean. Moore said she is hopeful for what comes from this holy experiment.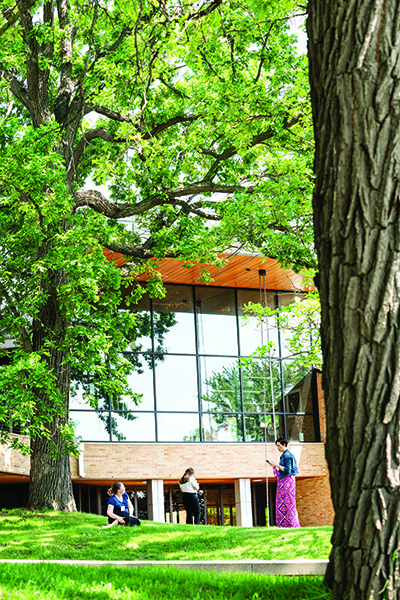 "We are looking at how we can make this the leaven in the loaf, or spread this innovation across our programs," said Moore, who is also a professor of biblical preaching. "When the pandemic hit, Luther was online within a weekend. The church is designed to move slowly, but at Luther, we are agile and forward-thinking, able to come together as faculty, staff, and students to connect with and provide for all. I don't know exactly what the future will hold, but it will be exciting."
Fuller, Haider, and Jimenez-Reyes agree. They are eager to see what the future holds for an accelerated program model and their pastoral paths. Haider plans to find a church in Minnesota, while Jimenez-Reyes is open to traveling the world. Fuller is applying for positions to work online with a Deaf church, which her two Deaf daughters plan to attend. Fuller said the entire experience has been that of a caterpillar emerging from a cocoon: "Growth experiences are often painful and uncomfortable, but the results change you into something you didn't expect, and it's liberating when you come through on the other side. And we're not alone. God was with us; God will be with us, and we have each other."