1950s
Arne Kvaalen '53 M.Div. died January 9. He served as a campus pastor at North Dakota State University and was an art teacher at Purdue University until he retired in 1993.
Duane C. Hoeven '57 Certificate of Theology died December 24. He served Lutheran parishes in Dodgeville and Wassau, Wisconsin, as well as in Faribault and Rochester, Minnesota. He served on the Luther Seminary Board of Directors from 1982 to 1988.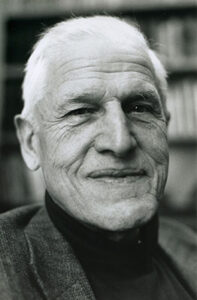 David W. Preus '50 M.Div. died July 23. He served as the presiding bishop of the American Lutheran Church as well as a parish pastor in both Brookings, South Dakota, and Minneapolis.
A longtime friend of Luther Seminary, Preus was known for his passion for evangelism and social justice, as well as leading people effectively as they explored their callings. He graduated from Luther College and served in the U.S. Army Intelligence prior to his decades in parish ministry. Preus was elected vice president of the American Lutheran Church, became the ALC's president, then served as director of the Global Mission Institute at Luther Seminary (1988–94). He held distinguished positions in the Lutheran World Federation and the World Council of Churches; he worked with world leaders, including Martin Luther King Jr., Pope John Paul II, and four American presidents.
During the 1960s, he served as chair of the Minneapolis School Board and as a member of the Minneapolis City Planning Commission, pushing for civic integration and access to education. As president of the ALC, he addressed rights for Native Americans and the struggle against apartheid in South Africa, and he was an early supporter of women's ordination.
We all enjoyed his wisdom and wit, and he will be greatly missed.
—shared by
Mark Granquist
, Lloyd and Annelotte Svendsbye Professor of the History of Christianity
1960s
Emil Evenson Jr. '61 M.Div. died August 14. He served parishes in southwestern Minnesota and central and northern Wisconsin.
Roger Eigenfeld '66 B.Div.; Paul Harrington '71 M.Div., '73 Th.M.; and Duane Paetznick '93 M.Div. published a book in August. "Behind the Pulpit: Three Seasoned Lutheran Pastors Share Their Megachurch Stories" is an account of Eigenfeld and Harrington's journeys as pastors of Twin Cities-area churches that grew significantly during their tenure. Paetznick, also a pastor, provides commentary on the leadership and ministry styles that Eigenfeld and Harrington developed throughout their years of service.
Roger D. Aus '67 M.Div. contributed to and edited a collection of 19 essays in the English, German, and French languages, titled "Haggadah in Early Judaism and the New Testament."
John Lundin '68 M.Div. died July 21. He served as both a parish pastor and chaplain in the Air Force until he retired in 2017.
1970s
Ronald F. Marshall '75 M.Div. published a review of Paul R. Sponheim's memoir, "Learning on Life's Way: Remembering and Reflecting by a Teller of Tall Tales," in the Summer 2020 issue of Lutheran Quarterly.
1980s
Charles "Doug" Kroll '80 M.Div. died August 6. He served as a Navy chaplain and taught at the College of the Desert in Palm Desert, California.
Diane "Dee" Pederson '81 M.Div. was elected bishop of the Southwestern Minnesota Synod and was installed October 9.
Russell N. Meyers '85 M.Div., '03 D.Min. published a book, "Because We Care: A Handbook for Chaplaincy in Emergency Medical Services." He also serves as a chaplain for Allina Health and Medical Services in Minneapolis.
1990s
Kevin T. Jones '95 M.Div. was elected bishop of the Northeastern Iowa Synod and was installed September 25.
2000s
Jack W. Anderson '01 M.Div. died June 14. He served at Dungeness Valley Lutheran Church in Sequim, Washington, until he retired to Santa Fe, New Mexico, in 2017.
Ruth Jensen '06 M.A. accepted a call to serve at Trinity Lutheran Church in Somerset, Pennsylvania.
Justin E. Johnson '06 M.Div. died September 4. He served in parish ministry at churches in Ontario, Oregon; Hazen, North Dakota; and Bellingham and Spokane, Washington.
2010s
Erin Heidelberger '14 M.Div. accepted a call to serve at First Lutheran Church in Lincoln, Nebraska.
In March, Sonja Gerstenberger '19 M.Div. was ordained and accepted a call to serve as pastor at St. Andrew's Lutheran Church in Ames, Iowa.
Phil Hett '19 M.Div. died May 30 after he and his daughters were in a car accident. Abigail, 11, also died, and Jillian, 13, survived the crash and was taken to the hospital with serious injuries. Hett served as a chaplain at Bethany Village in Lindsborg, Kansas, and wrote about his experiences during the COVID-19 pandemic in an article for the ELCA's Central States Synod publication, Walking Together.
Jia Starr Brown '19 M.Div., '23 Ph.D. made history as the first Black person and first LGBTQIA+ person installed as the senior pastor at First Covenant Church in Minneapolis.
2020s
In August, Halle Kluever '20 M.Div. was ordained. She accepted a call and was installed at St. John's Lutheran Church in Slatington, Pennsylvania.
Drew Stever '20 M.Div. was ordained in June. Stever accepted a call as lead pastor at Hope Lutheran Church in Hollywood, California.
Kim Adams '21 M.Div. was ordained in August and continues to serve Concordia College's and North Dakota State University's campus ministries in Fargo, North Dakota, and Moorhead, Minnesota.
Jamie Benson '21 M.Div. was ordained in September. Benson accepted a call at Bethlehem Lutheran Church in Portage, Wisconsin.
In August, Miranda Bermes-Goller '21 M.Div. was ordained and installed at Spirit of Grace in Hood River, Oregon.
Lori Fuller '21 M.Div. found it difficult to locate Lutheran theological resources that were available in American Sign Language. As a Deaf person whose primary language is ASL, she knows how important it is for the Deaf community to have access to these resources, so she decided to create her own. Fuller partnered with LUMO, an initiative of the Bible Media Group, which has produced video translations of the four Gospels. Fuller and LUMO collaborated to provide an ASL interpretation over the video to provide Deaf and Hard of Hearing people with a visual representation of the Bible in order to make it more accessible and understandable.
Melissa Johansen '21 M.Div. was ordained in October. She accepted a call and was installed at American Lutheran Church in Livingston, Montana. This call will allow Johansen to continue working as a chaplain at the Bozeman Deaconess Hospital.
In September, Anne Knighten '21 M.Div. was ordained. She accepted a call and was installed at the twin congregations of St. Luke's Lutheran and Union Congregational Church in Buffalo, Wyoming.
In October, Amy Mihelich-Smith '21 M.Div. was ordained and installed as teaching pastor at St. Andrew's Lutheran Church in Mahtomedi, Minnesota.
Anna Wolf '21 M.Div. was ordained in August and installed at First Lutheran Church in Britt, Iowa.
In July, Seth Wynands '21 M.Div. was ordained and installed at Bethesda Lutheran Church in Carlton, Minnesota.