Support for nontraditional ministry gives Seeds Project Fellowship cohort a chance to build faith communities through new and innovative means
As if being a faith leader alone wasn't hard enough, trying to do something differently than how it's been done before can bring untold scrutiny and judgment. It can lead to questions of commitment, intentions, motivation—even sanity.
But for one group of 24 pioneers, it's the different that drives them. For them, ministry takes shape in ways that, in some cases, look nothing like traditional church. Yet the impact of the gospel is no less profound.
Because different can be divine.
This group of innovative faith leaders is getting a boost from a Luther Seminary initiative that encourages those who are doing kingdom-building in new and unique ways. The Seeds Project Fellowship provides financial and other support to ministry leaders around the country who are changing how faith is labeled, perceived, and practiced.
The Seeds Project offers a 12-month, fully funded fellowship program for leaders who are passionate about cultivating communities using creative methods. Seeds also provides digital content for spiritual seekers and a learning hub for those passionate about sharing the gospel with their neighbors in effective ways.
"The seeds of innovative ministry are scattered throughout Christ's church and frequently are just out of sight or on the edges," said Michael Chan '09 M.A., associate professor of Old Testament and a member of the Seeds Fellowship Guiding Team. "We hope that the Seeds Project will inspire other church leaders to support those around them who are doing creative ministry for the sake of the gospel."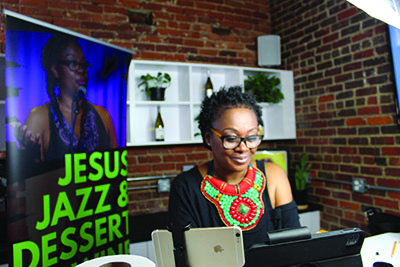 Alexus Rhone: The courage to share
Throat clearing and loud silence often precede the event that, at first glance, has the feel of an open mic night at a comedy club. It's not a tight five-minute stand-up set that these speakers are working toward, however. It's something infinitely harder: truth.
These evenings, what Alexus Rhone calls adult storytelling events, are about breaking down barriers and putting vulnerability on display. The stories can be funny, heartbreaking, revealing, powerful, and even painful. The event is designed to use stories as the conduit to community, because it's in that relationship-building that the gospel is revealed.
"We are blessed by all the ways that life happens, by how life creates celebration, or by how life throws us a curveball," Rhone said. "When we invite storytelling and sharing, we share experiences of success or failure, and as a person listening, you might say, 'I had that experience as well.'
"Making room, especially through stories, for that vulnerability, that shared experience … it's powerful to cultivate the ability to see yourself in someone else and work toward a common good."
Rhone's "Truth, Meet Story" work is one of two dozen projects funded with a $150,000 grant from Trinity Church Wall Street through Luther Seminary's 12-month Seeds Project Fellowship program, part of the school's Faith+Lead initiative. The fellowship program specifically seeks out and supports innovators of diverse backgrounds and approaches. Though all 24 fellows—two groups of 12 leaders—are Christians, more than 40% of the group identifies as unaffiliated with any particular denomination. Focusing on doing good rather than requiring ideological uniformity, said leaders including Rhone, means more people are open to a larger conversation about community. And when the focus on community comes, it often is built in the context of a communion of faith.
"I embrace mystery," said Rhone, who holds a master's degree in theology from Fuller Theological Seminary. "I don't know how people are going to respond to these events. But I do know that there are a lot of questions. There's a lot happening on this earth, and we all have a part to play in that."
Rhone's storytelling events can be for specific organizations, or open gatherings that draw people who may not even know they are looking for something more in their lives. The storytellers are at times preparing to reveal secrets about themselves—some serious, some silly, all private—and the exercise requires courage not only on the part of the speaker, but also of the listener. It's asking of everyone present to see themselves in that other person.
"When vulnerability shows up, God shows up," Rhone said.
By building empathy, that allows everyone present to "shed those barriers that are keeping us from the common good."
"The church has been labeled as a place we need to cover ourselves," Rhone said. "My role is to create a space where people can open up and uncover their truths. God will meet people where they are; all I've done is create an intentional space to share and to show the impact of vulnerability."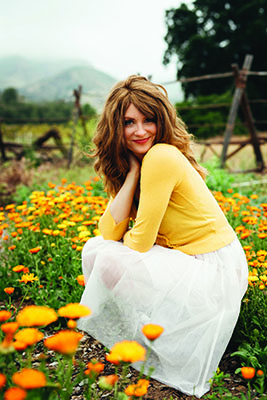 Cat Moore: Cross that loneliness divide
The power of sharing, of safely opening oneself up to a stranger, is also at the heart of Cat Moore's ministerial work. As the director of belonging at the University of Southern California, Moore has spent more than two decades studying and addressing loneliness.
Her work began simply: She was a mom who wanted a cup of coffee.
"Through motherhood I started discovering not only how lonely I had been, but how much potential we all have to create community all around us," Moore said.
So she started by speaking to people waiting in line for their morning jolt of caffeine. Casual conversations—that might run the gamut from asking about a book a person was carrying to complementing a purse another was holding—became a surprising difference-maker for total strangers, she said.
"Just by being generous with time and energy, by showing up for people, I watched hundreds if not thousands of people's lives improve in the three minutes it was taking for their coffee to brew."
While most people assume that others do not want to be disturbed, Moore found the opposite to be true.
"People are lonely. People do want someone to ask how they're doing," she said. "It does require someone who is willing to overcome the fear of rejection, who has a willingness to cross that loneliness divide."
Experts say there's a direct correlation between loneliness and the quality of one's mental and physical health. But despite the science, few institutions are putting resources into combating loneliness. So Moore works with organizations that are open to doing the heavy lifting of building and changing culture.
"It takes extraordinarily creative leaders to reorganize around these ideas," she said. "There's this very uncomfortable reality that maybe the way institutions have been organizing themselves isn't around the right measures."
That can get especially tricky, she said, when the work involves a community of faith.
"It requires sometimes taking a step back and helping people break down some of the compartmentalizing of what people call ministry. People have been trained to identify certain activities and behaviors as ministry and others not. I help people zoom out to see that their entire life is ministry. That there isn't a single moment when they are not in God's presence, when they are not loved and being invited to love."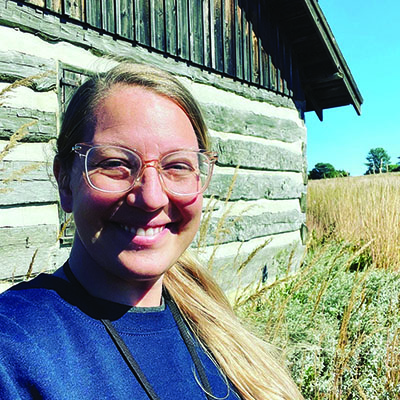 Cath Kaminski: Love as a lifeline
Answering a call to love and to build led Cath Kaminski to her mission as a pastor and church planter in Lincoln, Nebraska. But this wasn't just any church; this faith community was specifically called to the marginalized and the ignored—those who have faced prejudice, injustice, and intolerance.
"A church plant is expected when trying to build new disciples, but we were engaging the gospel through the lens of justice in everything we do," Kaminski said. "For the most part the 'system' is looking for numbers and dollars, and  they expect you to play by the rules."
The denominational funding that initially moved Kaminski from the East Coast to the Midwest fell away when the kind of church she was looking to build didn't match the plans for the church identity those funders expected.
"It's been terrifying … and exhilarating," she said.
Community members, parents of LGBTQIA+ children, and other allies came together to imagine something different. The faith community also espoused an ethic of racial reconciliation and speaking out against words and deeds that violate human dignity. The conversations can be difficult, but are essential if one is to truly be formed into a likeness of Christ, she said.
[Top post photo: Cath Kaminski, one of the Seeds Project fellows, spoke at an October 2021 gathering of Beacon Church.]
Kaminski arrived in Nebraska in September 2019 and spent until February the following year planting the seeds of what would become Beacon Church. Then a month later, in March 2020, the world changed with the COVID-19 pandemic. Kaminski and a group of about 30 others believed in and wanted an open and affirming faith community. But just as they were preparing for a formal launch, after months of small group meetings at people's homes and in other parts of the community, the delta variant surge of COVID-19 wreaked havoc in Nebraska.
"Starting a church in a pandemic is not simple; every church has been affected," Kaminski said. "But with all that God has done in the last two years, we choose to see this as a celebration. Without Seeds [Project Fellowship], we couldn't have continued that discipleship."
The small Beacon group transitioned into a college ministry with another local church, she said, along with a few other partnerships that developed between Beacon's community members and other local faith and social justice groups.
Changing from a full-fledged church body to a college ministry was not the plan or the hope, but the growth of new connections came because of the work that had been done.
"These people were willing to go to an unknown church to create space for all people to be welcomed."
Sowing the seeds
The Seeds Project Fellowship came about after Luther Seminary leaders spent intentional time watching and listening to what was happening in faith communities around the country.
"We noticed over a period of years there were faith leaders who were trying to lead innovative ministries, and they were having a hard time fitting into existing boxes," said Michael Binder '17 Ph.D., assistant professor of congressional mission and leadership. "We wondered, 'How is God already raising up innovative leaders?' And then, 'Is there any way for the seminary to be encouraging and supportive of their work?'"
The hunch was that there were leaders out in the world pushing boundaries and probably not getting support. Binder said Luther Seminary leadership began asking some bigger questions.
"What difference does Jesus make in everyday life? That question allows us to not worry so much about the ministry or organizational shape," he said.
And to follow more closely what God is already doing, Chan said.
"In the broad and diverse garden of God, the Spirit was already doing this work, often through leaders that were outside of formal denominational structures," he said. "Our calling was to accompany those leaders, connect them with other innovators, support their work, and then gather their insights for the sake of the larger church."
The fellows said they've grown in ways they couldn't have imagined because of their work with the other members of the program.
"What I needed was to not feel so alone in the work, to not feel like I was the only one," Rhone said. "The mentors and colleagues within the cohort share a vision. We are reaching different people, and we are in this space together with creative and courageous colleagues."
Moore agreed.
"I think what people are having to come to grips with is that the form is radically different, but the content is the same," she said. "Across vastly different projects and efforts, you'll see the same heart: the gospel of meeting people where they are, of people being transformed.
"Seeds was my lifeline to sanity and perspective," Kaminski said. "To see that a lot of people are doing unique work outside the system, to see the process of doing something unique is not unique. There is a breadth of wisdom from colleagues of different experiences and different denominations and backgrounds. Seeds enables you to be a part of a group that allows you to expand how you see and do ministry."
Binder said Luther's challenge will be to continue to be open to the Spirit, even when the direction is perhaps not immediately clear or easily defined.
"God is actively throwing seeds into 21st-century culture," Binder said. "You can either miss out or you can join in."
Meet the rest of the Seeds Project fellows at faithlead.luthersem.edu/seeds.