In a pioneering, Spirit-led campaign, Luther Seminary tackles student debt and champions bold, innovative strategies to reimagine church
Kristine "Kris" Hertsgaard Kincaid '23 M.Div. felt called to ministry as a high school student, but she had never heard of female pastors and was encouraged to pursue a career in communications instead. Still, the Minnesota native applied to Luther Seminary in 1983 but ultimately chose graduate school in communications, and she worked at a Bible camp to quiet her restless spirit. God kept nudging throughout her 22-year career, and neither church council nor any other lay role fulfilled her calling for ministry.
In January 2015, Kincaid learned that First English Lutheran Church in nearby Cannon Falls, Minnesota, was looking for a three-fourths-time director of children, youth, and family ministry. Kincaid received health insurance through her husband, a high school science teacher, and her kids were grown. So, at 54, the mother of two left her comfortable job at Kenyon-Wanamingo Public Schools and applied to seminary for a second time.
A month after she crunched the numbers—prepared to finance the roughly $80,000 Master of Divinity degree—Kincaid, who got the First English Lutheran Church job, learned she would be among the first to receive the Jubilee Scholarship, which pays tuition for all newly admitted Master of Arts and M.Div. students.
"I got in," she said. "My job doesn't require a seminary degree, but I wanted a formal education to inform and enrich my work."
"Getting into Luther was a dream come true, but then to learn I wouldn't have to take on debt to pursue my call—I was speechless, elated, honored, and so grateful," said Kincaid. "I was nervous my age would be a barrier to acceptance or that I wouldn't fit in, but the fact that Luther saw promise in me, that donors are willing to invest in me, and that my professors and peers have embraced me is a testament to the Holy Spirit working through this great seminary."
Learn more about the Listen! God is Calling campaign and give now.
Imagine 11 donors creating a circle of support around each seminary student
The Jubilee Scholarship is one of three initiatives within the Listen! God is Calling campaign, which Luther began to quietly share with donors in 2018. The campaign raised $30 million to support innovation, including Faith+Lead, the seminary's online learning hub for Christian leaders, and MDivX, the 24-month accelerated M.Div. program that prepares students to lead faith communities as soon as they step into a role. The campaign allocated $35 million to support the Sustaining Fund, which enables Luther to invest unrestricted gifts to areas with the greatest impact. Heidi Droegemueller, vice president of Seminary Relations, said the campaign's third priority—the Jubilee Scholarship—emerged from great need.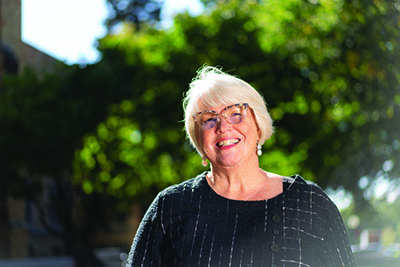 Prior to the scholarship, students came to Luther with an average of $32,000 in undergraduate debt and left with an average of $61,000 of student loan debt, going into first ministry calls making about $30,000 a year. And although 45% of Luther graduates were leaving without any student loans, more than 50% were leaving with significant debt.
"One of the first things a student said to me was, 'You require me to get the education of an attorney but pay me like a social worker,'" said Droegemueller, who also serves as executive director of the Luther Seminary Foundation. "Financial barriers like these lead to a quarter of church leaders leaving ministry, a third needing to secure second jobs, and another quarter putting off health care. We were not fulfilling our mission by sending graduates out to serve with unmanageable debt."
That debt, paired with declining full-time pastoral roles nationwide, vexed the Luther community and culture. "For a good 25 years, some graduates haven't had the means or inclination to give back," she added. "Graduates—sometimes crushed by debt—were less likely to encourage others in their calling." The seminary, Droegemueller said, took a leap of faith.
"The Jubilee Scholarship instills in our students and graduates a spiritual practice of gratitude and recognizing God's abundance. Each student now knows that [on average] 11 donors are circling around them, praying for them and investing in their future and the future of our church," she said. "And we're talking about donors who give everything from $5 a year to millions. Every gift matters as we continue to make this $30 million initiative a reality."
A return to past levels of support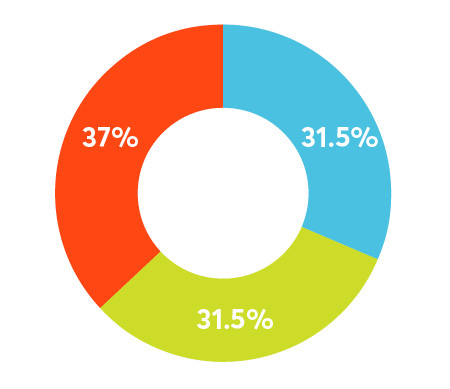 Prior to the 1980s, churches and denominations paid seminary students' tuition, and often room and board, Droegemueller said. When offering plates got passed and resources were spread across the denomination, a portion of collections funded seminary education. Slowly and over time, things began to change. The Jubilee Scholarship, Droegemueller said, gets back to that heart for supporting our leaders: "If we want to rely on them to lead the church, we should be willing to come alongside them in their formation."
Luther stepped out with this bold, transformational effort, said Jessi LeClear Vachta '14 M.A., director of enrollment services. Other seminaries have developed similar programs now that Luther is offering such a gift to those called to serve. Inquiries jumped from about 500 to 800 per year, LeClear Vachta added, and the acceptance rate went from 92% to around 54%. Since the inception of the scholarship, Luther has turned away nearly two-thirds of qualified applicants each year due to program capacity.
In 2020, the first Jubilee recipients graduated with an average indebtedness of $37,000, compared to $61,000 prior to the scholarship. "We cut student debt by 40%," Droegemueller said. "We're sending out students who are financially well and healthy, and they're going to be able to innovate in ministry, go where the Holy Spirit calls them, and stay focused on the vocation of being called as a pastor for a congregation. That's great news."
Intentional efforts to diversify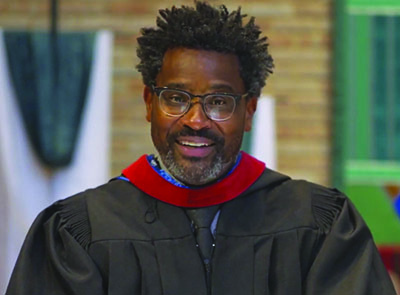 With the Jubilee Scholarship, Luther Seminary is also intentionally seeking and empowering a diverse group of students, including Timothy Jackson '21 M.Div. The average debt for incoming students of color is $15,000 more than their white counterparts. That disparity demonstrates the systemic inequities underrepresented students face when pursuing advanced degrees, said Jackson, senior pastor at Impact Living Christian Center in Minneapolis.
"I was Luther's commencement speaker in 2021, and I shared that we have a moral responsibility to reclaim the good news of Jesus Christ through an embrace of radical inclusivity, a term coined by theologian Dr. Anthony C. Hunt," said Jackson, who is a doctoral student at Wesley Theological Seminary and is the first in his family to earn an advanced degree. "This scholarship seeks to remove barriers that divide communities. It opens doors for students from underserved communities. The scholarship speaks to the truth that all are welcome to the table, living out a Christ-centered message of grace, faith, and liberation."
Enthusiastic donor support
Donors like Margaret "Marge" Hegge love hearing these outcomes. "It's a top priority in my personal and professional life," said Hegge, one of the scholarship's most ardent and vocal champions. Her father used the G.I. Bill to enroll at Luther Seminary in 1947, the year she was born. The family moved from rural parish to rural parish in Iowa, North Dakota, and South Dakota. Her father died in 1987, and after her mother passed away in 2012, the family created the Rev. Irvin Junis Lovseth and Harriet Lovseth Scholarship to fund a student's tuition each year.
"Shortly after establishing the scholarship, I walked up the steps of Bockman Hall, and I thought, 'My dad walked up these same steps,' and that was a powerful moment of connection with him," recalled Hegge, who is chair of the Luther Seminary Board of Directors. "I remember him talking about how profound his teachers were, and I've felt called to be part of this place to honor him and support the evolution of our denomination."
The Listen! God is Calling campaign, Hegge said, is a testament to the faith and innovative spirit of the seminary's leadership. Despite risks and "never been done befores," the seminary is innovating to reach and empower people in new and exciting ways. "They have moved faithfully ahead to where the Spirit is leading, and that is powerful," added Hegge.
Donald Bottemiller is another donor and advocate for Luther Seminary's Listen! God is Calling campaign. What excites him most: the funds supporting innovation. Bottemiller has no family ties to Luther Seminary, but he's a lifelong Lutheran, and friendships led to his service on the Board of Directors from 2006 to 2018. To that role, he brought the same business acumen and innovative spirit he used to lead a successful furniture company and produce several patented inventions.
Bottemiller regularly meets with potential donors to talk, with precision, about Luther's strategy and initiatives.
"I grew up in rural Minnesota with three television channels and no internet. Church was a social hub without much competition," said the 82-year-old. "These days, we need to graduate pastors who can come up with creative and engaging ways to lift people's faces up from their phones and remind people of the need for community and hope."
Committed to innovation
Dwight Zscheile '08 Ph.D., vice president of innovation, guides the innovative strategies funded by the Listen! God is Calling campaign. Zscheile was instrumental in developing the accelerated M.Div. degree pilot (called MDivX), which is supported by funds separate from the Jubilee Scholarship (read more in the MDivX story in the Summer 2021 issue).
In addition to the accelerated program, the campaign's innovation funds have built the Faith+Lead online community, a digital hub for leaders. Since its 2018 launch, the site has welcomed 380,000 unique visitors, 46,000 newsletter subscribers, and 18,500 participants in at least one paid course, event, or workshop.
"When we started our innovation work in 2018, we knew that, in this rapidly changing world, there were a lot of leaders who needed and wanted theological education, resources and connection but didn't have access through traditional paths," said Zscheile, who also serves as an associate professor of congregational mission and leadership. "We experimented with increasing accessibility and extending the reach of our institution's impact more broadly in the church, and the tremendous engagement and response has demonstrated that we tapped into a great need."
President Robin Steinke said Luther Seminary is uniquely positioned to come alongside congregations and equip the future church leaders to learn and model best practices. Having educated 40% of the ELCA's pastors and church leaders across the globe, Luther's reach is wide, and its connections—through online platforms and innovative programs—are deep and meaningful.
"We've always measured congregational strength as giving and attendance, but we've come to realize the core problems of forming Christian community are not technical fixes but systemic issues. Nobody has told many church leaders, 'It's OK. It's not your fault,'" said Steinke. "We can and we will solve these core problems together if we listen to God's call and draw from this rich wellspring of Lutheran theological tradition."
Kris Kincaid said she appreciates Luther's commitment to innovation and courageous investments in church leaders, no matter their call.
"I took 12 kids to a summer camp, and a counselor said, 'Wow, your kids are so proud of you. They've been talking about how inspiring it has been to watch you follow your dreams,'" Kincaid said. "God puts us places, and we influence people in ways we don't anticipate, and Luther allows so many of us to be in those places—to make a difference."