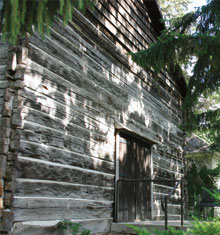 The Old Muskego Church, constructed of oak logs with walnut furnishings, was the first Norwegian Lutheran church built in the United States. It is a National Historic Register property and as such receives special care and use.
The area of Muskego, near Wind Lake, Wisconsin, was first settled by Norwegians in the late 1830s.  The congregation was organized in 1843, when Danish schoolteacher Claus Lauritz Clausen (1820-1892) was ordained as the first pastor; Clausen served there until 1846.  The log church was built on "Indian Hill," previously a sacred site for the Potawatomi who had by then been displaced.  Construction began in 1844 and took a year due to shortage of funds.  It was dedicated on Palm Sunday, March 13, 1845; Clausen gave dedicatory sermon.  The building was used for 25 years before being superseded by the new church completed in 1871.
The Old Muskego Church was dismantled in 1904 and moved to Luther Theological Seminary in St. Paul, Minnesota, where it was reconstructed and restored by Charles L. Jacobson.  It was added to the list of Minnesota State Historical Sites in 1935 and placed on the National Register of Historic Places in 1974.
Scope and content
The collection contains records and publications relating to the history of Muskego Lutheran Church.  Minute books of church trustees (1849-1922).  Record book and guestbook (1905-1938); guestbooks (1976-1991).  Photographs of the church.  Newspaper clippings and magazine articles about the church.  Literature recounting the church's history, including pamphlets, anniversary booklets, and family histories of prominent members of the congregation.  Books on the history of the congregation:  Stangeland Einung Kornø by Alice Stangland Kirn; In Jesus' Name Shall All Our Work Be Done by Karen Hanson.  A complete magazine issue, featuring an article on the Muskego church:  Log Home Décor, #5 (1993).  Early materials in Norwegian or Dano-Norwegian with partial translation; later materials in English.  Minute books and 1905 record book in original binding and quite fragile.