Taking care of your food needs
Catering at Luther Seminary is provided by A'viands. We are committed to providing world class catering at every level. We are creative, innovative and responsive to each and every catering client and guest we serve. We understand that every event we serve is a VIP event.
We offer a broad spectrum of menu ideas or will custom design any event from scratch. Our goal is to create a pleasurable dining experience with clear communication before, during and after each event.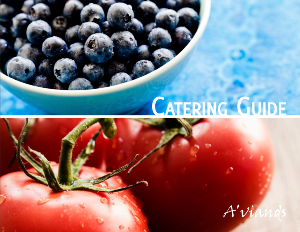 Menu selection may be simple to extravagant, depending on your needs. Our experience and ability to create special events make any type of function "out of the ordinary." Luther Seminary Dining Services is committed to providing exceptional, high quality catering events in support of events on campus.
We ask that you book any rooms on campus you will be using before you book our catering services. You can do this by contacting Event Services or by filling out the online form.
We are pleased to offer a wide variety of options for your event. Please take a look our Catering Guide to see what might work best for you.
We look forward to working with you on your special event.