2022—"Fling Wide the Door"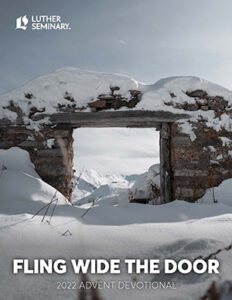 Luther Seminary invites you to use the 2022 Advent devotional, "Fling Wide the Door" for personal or congregational use this Advent.
This year's contributing authors are:
Dawn Alitz '09 Ph.D.
Director of Coaching and Events
Amy Marga
Professor of Systematic Theology
Jessi LeClear Vachta '14 M.A.
Director of Enrollment Services
If you are already a God Pause subscriber, you will receive "Fling Wide the Door" in your email inbox each day of Advent. If you're not a God Pause subscriber, sign up here to receive the daily devotion. Once Advent ends, you'll continue to receive daily God Pause devotions written by Luther Seminary alumni.
If you have questions, please email communic@luthersem.edu.