As church formats and strategies adapt, some leaders are embracing multicareer ministry
Sarah Ciavarri '01 M.Div. calls herself a "pastorpreneur" to explain her shift from parish ministry to coaching others through the choppy waters of the gig economy, in which workers move between flexible or temporary jobs with little employment security or benefits. In August, she hosted an online course on Luther Seminary's Faith+Lead online platform to reach other church leaders interested in spreading their gifts beyond the pulpit.
Ciavarri (pictured) said the class was a gathering of those with a holy restlessness. The Minnesota resident shared her story of a dysfunctional first call that led her to become a certified trainer and author, while also serving 12 years as director of spiritual care at the Apple Valley Village in Apple Valley, Minnesota, and the spiritual life resilience facilitator for its parent company.
Then others introduced themselves in the course: Sara Freudenburg, the pastor of Emmanuel Lutheran Church in Livonia, Michigan, left teaching for ministry but remains a certified parenting coach and founded the synod's first food truck ministry, FedUp. She met Linda Zastovnik, who pastored churches in North Carolina for 25 years before launching Wakening Ministry, which offers virtual Bible and book studies, confirmation classes, women's retreats, weddings, and personalized Holy Land pilgrimages. She met Keith Spencer, a naval lieutenant turned pastor of Trinity Lutheran Church in Pembroke Pines, Florida. He hosts a podcast, fills a YouTube channel, and offers classes about faith, bread baking, and butterfly gardening.
Nearly 40 other participants followed, all with callings as diverse as the creatures on Noah's ark. This crew is navigating bivocational ministry, which is also called multivocational, covocational, dual-career, partially funded, or tentmaking ministry. The term is not consistently defined in academic literature or popular usage, but to Ciavarri, a bivocational person is one who holds more than one job or serious volunteer commitment in addition to a congregational leadership role.
"None of us are only just one thing, and the church needs to embrace and support this bivocational and multivocational existence to which many church leaders feel called," Ciavarri said. "God brought me here because God knows this combination best feeds my soul for the long haul, which means my years in ministry will be longer and more fruitful."
Necessity and choice drive dual-career trend
Ciavarri is not alone, according to Kenneth Reynhout, director of institutional effectiveness, assessment, and research for Luther Seminary's Office of Diversity, Equity, and Inclusion. According to an Association of Theological Schools survey of more than 5,000 seminary students, one-third of 2017 graduates planned to enter bivocational ministry, and almost 40% of seminary students intended to serve in contexts outside of the local church.
At Luther, nearly 20% of incoming students in Fall 2020 said they planned to hold multiple roles. Reynhout credits the lag behind national trends to Luther's competitive application process (thanks in large part to the Jubilee Scholarship—see the feature story on the seminary's new campaign), but "the seminary's numbers are still on the rise," he added.
"The days where you could just go to seminary, get your M.Div., and know there is a pulpit out there waiting for you are over. There is also a lot of innovation around reframing church, and many of those roles are not full-time positions," Reynhout said. "Bivocational [ministry] is a reality. Now, is it good or bad? I think the answer is both. Ministers who also work outside the church are bringing the teachings of Jesus outside the church walls. On the negative side, anyone who has had to work more than one job can tell you it can erode you, slowly. It's psychologically and sometimes physically taxing to juggle multiple jobs and maintain the boundaries needed to do so. Some people, though, embrace the challenge."
Ciavarri feels that struggle to set boundaries, communicate expectations, and learn new platforms and practices (don't get her started on learning to build a website). But she believes the bivocational existence—while not for everyone—invites church leaders to be more authentic, relevant, and connected.
"Being bivocational by choice has made my life and ministry far more complex and unwieldy but also much more interesting and exciting," she said. "God's church needs leaders who are invigorated and hopeful, and the people I work with are living this beautiful cross-pollination of strategic business practices and faith-filled pursuits. They are breaking down barriers between the world and the church. They are not bystanders; they are church leaders who have their feet firmly planted in many different experiences."
"My financial security doesn't come from my employment at the church, which frees me up to be a different kind of leader."

—Brad Mills '13 M.Div.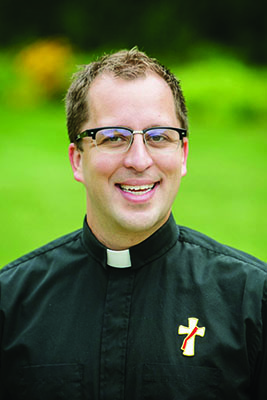 Brad Mills '13 M.Div., an ordained deacon at Abiding Savior Lutheran Church in Mounds View, Minnesota, has rooted himself in dual careers. The father of three works 15 hours each week as director of youth ministry, while also offering support to the pastoral team. He works full-time as an insurance company manager in Edina, Minnesota.
"I am doing this work in the church because I want to be there. It is a choice. I don't have to do it to pay the mortgage or put food on the table, so I can advocate for and make decisions in a way that doesn't involve personal fears related to job security," said Mills, who earned an M.Div. from Luther and an M.A. from Bethel Seminary. "My financial security doesn't come from my employment at the church, which frees me up to be a different kind of leader."
Mills relates to working parents and those focused on balancing careers and church involvement in a way he wasn't able to when he previously held a full-time church role. But, he stresses, bivocational ministers must have support outside the church, and they need, at times, to remind church leaders and members that they have full-time commitments outside the church, too.
"You need to find your peanut butter to go with your jelly," said Mills, who was ordained as a Minister of Word and Service in the ELCA in 2020. "I have a boss who understands that sometimes I need to take a couple hours off in the middle of the day to have a church meeting or officiate a special service," Mills said. "I've found that it's less about the church being supportive and all about your spouse, family, and other jobs being supportive of your call."
Is the bivocational model the future of ministry?
Conversations about bivocational ministry are critical to the future of the church. According to a Faith Communities Today survey, only 62% of U.S. churches have a full-time pastor—down from 71% in 2010.
As director of Luther's enrollment services, Jessi LeClear Vachta '14 M.A. regularly talks with students who have a clear bivocational path and empathizes with those who must combine employment opportunities to make ends meet. Ministry, she said, feels like a moving target for many incoming students.
"We've been having lots of discussions about the part of our mission that focuses on listening—to each other, to our students, and to the realities of the church. I think we sometimes forget how truly amazing it is for someone with incredible talents and energy to enter into a role when churches are closing and more and more people are opting out of religion. That is faith," she said. "At Luther, we need to continue to adapt the curriculum to address these trends and offer additional seminars and resources about workload and balance, money and finances, and professional clarity."
Diverse pathways to ministry, digital gathering spaces
Luther Seminary has long provided students and the Christian community at large with increasingly dynamic, relevant, and accessible resources. Since embracing a vision of leading faithful innovation for the sake of the gospel in a rapidly changing world in 2017, the seminary has raised nearly $30 million to support innovation initiatives. Dwight Zscheile '08 Ph.D., vice president of innovation, guides the seminary's work to diversify pathways to ministry.
"We live in a culture where it is assumed that you can have a perfectly good life without God," Zscheile said. "Americans rank family, career, and money higher than faith and spirituality when asked what gives meaning to their lives, so the question is how can we—the church—better connect with people's search for meaning and connection?"
For more than 10 years, the seminary has offered degree programs through distributed learning, which allows the seminary's roughly 40% of students who live outside the Twin Cities access to classes through a mix of online, in-person, and hybrid experiences they can take at their own pace. In 2018, Luther launched the novel MDivX pilot, which allows students to earn a Master of Divinity degree in 24 months while they study and serve in their current locations. The seminary also developed the Seeds Project, a 12-month, fully funded fellowship for leaders who are investing in creative approaches to being church in a changing world.
To complement curricular innovations, Luther created the Faith+Lead online community, a digital hub for leaders that has welcomed 380,000 unique visitors and 18,500 participants in at least one paid course, event, or workshop, like the one Ciavarri hosted.
"Imagine if your work as a leader was simply to join people where life is being lived to help them make spiritual meaning," Zscheile said. "Imagine if this spiritual work was the primary work of ministry—not administering and staffing programs, managing a nonprofit, securing volunteers, running annual fundraising campaigns, or worrying about decaying buildings. Consider how much energy is being spent on maintaining institutions, where the primary focus ends up being on the institution itself, not its spiritual purpose."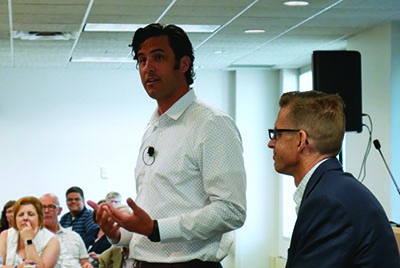 Zscheile lifts up his colleague Michael Binder '17 Ph.D. as an example of Spirit-led work to reimagine church. Binder, an assistant professor of congregational mission and leadership, helped found Mill City Church in northeast Minneapolis in 2008. When Binder surveyed the region in the early 2000s, he found that nearly 90% of the roughly 35,000 people who lived in the area did not attend church. There were 42 churches in the neighborhood, but only a few of them served 100 members or more each Sunday.
"We thought, 'This is what we would call a mission field if we were talking about overseas missions work,'" said Binder. "We began asking ourselves two fundamental questions: 'What might God already being doing in this part of Minneapolis?' and 'How might we join in with what God is already doing?' Instead of focusing on attracting a certain group of people to our church, we began trying to answer these questions."
Places like Mill City Church, Zscheile said, are introducing people to the simple practices that have shaped faithful Christian discipleship in every context and every age—prayer, Scripture study, forgiveness, serving the needy, and fellowship, among others.
Mill City Church started with a bivocational staffing model to benefit from team leadership and to direct more of its budget into the local community. The congregation meets in a public school because it fosters community between the church and the school. The church offers both digital and in-person worship services, with "digital neighborhoods" that connect for conversation after each service. During the week, congregants gather in missional communities throughout the Twin Cities that come alongside refugees, Chinese students, and people who experience homelessness. Other groups focus on issues like racial injustice and reconciliation or closing educational gaps in the city.
Inspiring calls beyond the pulpit
Hearing about Mill City and other pioneering practices energizes Paul Peterson '23 M.Div., a cardiologist who spent 30 years caring for patients in Anchorage, Alaska. The lifelong Lutheran didn't hold positions in church growing up because there was "too much work on the family dairy farm," but the Minnesota native grew increasingly aware of his calling to ministry. Spirituality became part of his practice.
"The first few years of being a doctor, you think you know everything and easily get impressed with yourself and the science. But I came to realize the power of faith and the mind-body connection. Many patients were searching for a connection with God, and I felt increasingly called to help them see God's love; to help patients understand that God is not punishing them but sitting beside them."
Peterson enrolled in Luther Seminary and shifted to part time at his joint cardiology practice. He has since retired to focus solely on theological education (and being a grandparent, volunteering at the Lutheran Service Food Pantry, and staying healthy), but he plans to reenter bivocational work for area nonprofits.
Bivocational ministry was the theme of Peterson's clinical pastoral education (abbreviated as CPE in the Luther community), during which he served as a hospital chaplain with colleagues who included a Unitarian Universalist lawyer, a Catholic dentist, a Pentecostal fire chaplain, and a Buddhist who worked in retail. After CPE, he took a year off to sort through 30 years of his own trauma.
"As I started counseling others through their darkest times, I realized I hadn't dealt with all the death and sadness I stuffed into a box as a doctor. I didn't want to bring that baggage with me as a pastor, so I took time to confront it and heal," he said. "I want to be like a golden retriever—truly listening, being fully present, and bringing calm and slowness during a hectic, overwhelming season of their life."
With graduation in sight, Peterson is deciding whether to stay on the four-year M.Div. path to ordained ministry or to graduate with the two-year Master of Arts degree. The ELCA ordains people with an M.A. to the ministry of word and service, which would allow him to engage in all aspects of ministry except serving communion and baptizing people. Peterson said he appreciates the range of options for people to pursue a call.
"My Hindu friend taught me that we shouldn't need to tell anyone our religion. They should be able to see it through our actions," Peterson said. "Many people are spreading the word of God without being ordained. Luther and other seminaries are starting to embrace and support these individuals, who might seek education and guidance but do not want to participate in the full seminary experience."