An illustrated guide
Click on the building name below for more information about each building on the Luther Seminary campus. See also the Campus Map page.
---
Northwestern Hall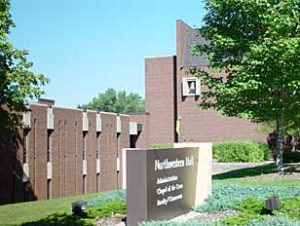 1501 Fulham Street
Northwestern Hall houses the Chapel of the Cross and classrooms.
Lower Level – Storage and mechanical areas.
First Level – Auditorium.
Second Level – Chapel of the Cross and classrooms.
---
Olson Campus Center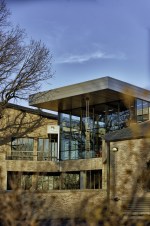 1490 Fulham Street
This main building on campus contains the Chapel of the Incarnation, cafeteria and main dining room. The Campus Center is also the location for the campus Information Desk and main switchboard.
Lower Level – Lecture hall, mail room, choir room.
Ground Floor – Chapel of the Incarnation, Admissions, cafeteria and main dining room, Information Desk.
Upper Level – Charles and Sharon Olson Commons and Cafe, Olson Dining Room, Office for the Seminary Pastor, Financial Aid Office, seminar meeting room, and meditation chapel.
---
Bockman Hall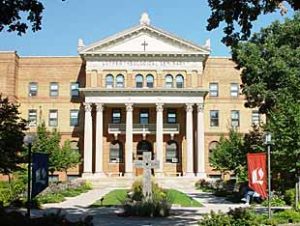 2375 Como Avenue
Bockman Hall houses the Office of Technology as well as classrooms, a student lounge, staff and faculty offices and student dormitory rooms.
Lower Level – Office of Technology, classrooms, Word & World office
First Floor – Classrooms, Academic Dean's Office, Human Resources, Registrar's Office, faculty offices and student lounge
Second Floor – Meeting rooms, Business Office, Contextual Learning, Center for Lifelong Learning, Center for Stewardship Leaders, Marketing and Communications, Seminary Relations and Student Affairs Office.
Third Floor – Residential and Short-term student housing
---
Gullixson Hall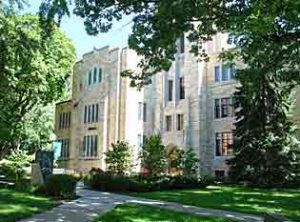 2375 Como Avenue
The second floor of Gullixson Hall houses the library. Gullixson Hall also contains the rare book room, faculty offices, classrooms & a computer lab.
Lower Level – Concord office, student computer lab, faculty lounge
First Floor – Classrooms and President's Office
Second Floor – Library
Third Floor – Rare book room and Archives
Book Stacks – Levels 3-8 of the Library
---
Stub Hall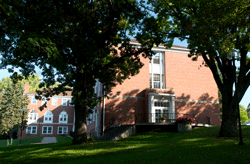 2329 Hendon Avenue
Stub Hall is located just down the hill from Northwestern Hall and has a large conference room for meetings, exercise facilities and guest housing.
Lower Level – Exercise room and laundry
First Floor – Guest rooms and Stub Hall Lounge
Second Floor – Short-term guest and student housing, meeting room
Third Floor – Short-term guest and student housing rooms
---
Old Muskego Church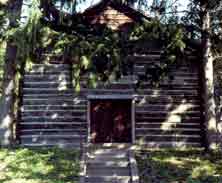 This piece of history was built in 1844 in Wisconsin by Norwegian immigrants and then moved to Luther Seminary in 1904 piece by piece. It is still used for weddings, baptisms and festival services.
Contact events@luthersem.edu or 651-523-1637 for rental inquiries.
---
Greenway Village Apartments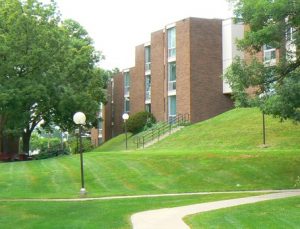 1570 Eustis Street
Greenway Village consists of five residential buildings featuring one-, two- and three-bedroom apartments. These apartments are owned and managed by BBH Management Co.
---
LDR Apartments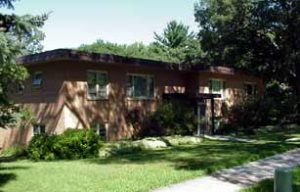 1559 Fulham Street
North of Northwestern Hall are the LDR Apartments. Luther Seminary offers efficiency and one-bedroom apartments.
Contact housing@luthersem.edu for rental inquiries.