The Rev. Dr. Robin J. Steinke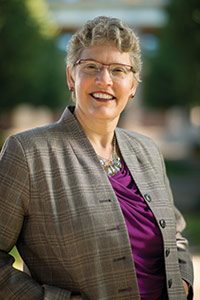 The Rev. Dr. Robin J. Steinke came to Luther Seminary as president and professor of systematic theology in June 2014. She was the first woman in the 145-year history of the seminary to be elected president.
A native of California, with formative years spent in rural southwestern Minnesota, Steinke completed undergraduate study at Augustana University in Sioux Falls, majoring in music education. She was a middle school band director before working in financial planning with American Express. Study followed at Emory University, Luther Seminary and finally at Trinity Lutheran Seminary in Ohio, where she obtained masters degrees in Divinity and Sacred Theology before completing her doctorate at Cambridge University in 1999, where she wrote on the theology of Dietrich Bonhoeffer. That same year she was ordained as an associate pastor at Hope Lutheran Church in Annandale, Virginia and joined the faculty at Lutheran Theological Seminary at Gettysburg. At Gettysburg, she served as professor of theological ethics and public life and as Dean of the Seminary.
Steinke is known for her strategic leadership, passion for sharing the gospel and commitment to the global church. Representing the ELCA on the Lutheran World Federation Council and Executive Committee, she chairs the Committee on Theology and Ecumenical Relations and is concluding a 10 year term as president of the Lutheran World Federation Endowment Fund. She has published and lectured widely on church leadership, vision, principles and strategies in mission, the Gospels and creeds, public conversation about ethics and theology, and formation. She retains an active interest in music as an enthusiastic third trumpet player.
Presidential Inauguration
On Oct. 12, 2014, the Luther Seminary community celebrated the inauguration of Robin J. Steinke at Shepherd of the Valley Lutheran Church in Apple Valley, Minn. ELCA Presiding Bishop Elizabeth Eaton presided.