Celebrating exemplary donors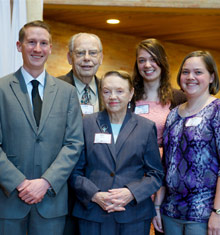 Make a gift of any size to Luther Seminary and know that your gift helps:
Equip Luther Seminary students to spread God's word in a world of many cultures and religions
Ease the financial hardship that might keep students from attending Luther Seminary or accepting a call at a smaller church
Educate your next pastor, your congregation's next youth minister, the chaplain at your hospital or senior healthcare center, the counselor at your children's summer Bible camp.
Giving level details
Leadership Circle ($10,000+)
The Leadership Circle is made up of donors who have given outright gifts of $10,000 or more to Luther Seminary. These gifts provide the seminary's largest single source of gift support. Moreover, Leadership Circle members provide counsel and support to uplift the seminary's mission and its students, faculty and staff.
Society of Stewards ($1,000+)
The Society of Stewards is comprised of donors who give $1,000 or more each year in support of the mission of Luther Seminary. The Society is a powerful witness to the importance of the seminary's mission of educating leaders for Christian communities.
Heritage Society (Estate Gifts)
Since 1987, the Heritage Society has recognized and welcomed people who have made estate plan inclusions or qualifying deferred gifts at Luther Seminary. Through prayers and financial support, Heritage Society members help provide a solid financial base so that Luther Seminary can accomplish its mission to educate leaders for Christian communities.
Partners ($250+)
Partners are donors who give more than $250 or more annually. Partners underwrite more than one-third of the total cost of Luther Seminary's academic program. Gifts from Partners keep tuition lower, ensuring that seminarians can afford the cost of a high-quality theological education.
Giving levels comparison chart
Your gift can be directed toward the Sustaining Fund, scholarships, specific programs or endowment. Gifts of cash are the most common way of giving, but you may also choose to make a gift of stock or other appreciated assets.
Giving Level
Benefits
Leadership Circle
Individuals who make outright gifts of $10,000 or more to Luther Seminary are automatically enrolled as Leadership Circle members.

Members are invited to special events where they can get to know students and faculty of the seminary, as well as others concerned about theological education
Members are consulted on issues related to the future of the church by leaders of the seminary.
Members participate in all Partner and Society of Stewards benefits as well.
Members receive a unique Luther Seminary keepsake as a sign of membership in the Leadership Circle.

Society of Stewards
Giving an annual gift of $1,000 or more qualifies you for membership in the Society of Stewards

The president annually gathers Society of Stewards for a luncheon and seminary update.
Satisfaction in knowing your gifts are an investment in the future leadership of the church.

Partners
Giving an annual gift of $250 or more qualifies you to be a Partner.

Members receive written updates about the seminary from the president.