Include Luther Seminary in your estate plans
Giving of our assets is a way that we can say thank you to God for God's blessings in our lives. We do that continually through our offerings and outright gifts, but for many of us, the most significant gift we can make is through our estate plans.
Since 1987, The Heritage Society has recognized and welcomed people who have included Luther Seminary in their estate plans or have created a deferred gift at Luther Seminary. The Heritage Society originally was sponsored by the Alumni Association in gratitude for their seminary education, an education made possible largely by the financial and prayerful support of others.
The charter members recognized that the ministry of the gospel requires educated and committed leaders for Christian communities in mission. They knew that Luther Seminary could not adequately accomplish its mission without a solid financial base. Through prayers and financial support, Heritage Society members help provide this solid financial base.
Heritage Society members are stakeholders in the seminary's mission to educate leaders called and sent with the good news of Jesus Christ into a world of many cultures and religions.
To learn more about including Luther Seminary in your estate plans or creating a deferred gift at Luther Seminary visit legacy.luthersem.edu or contact Tim Larson, Senior Planned Giving Adviser, at tlarson001@luthersem.edu .
Thanks and recognition
We express our appreciation for your qualifying gift and say thank you in a number of ways. As a new Heritage Society member, you are entitled to receive:
"Nativity," a bronze sculpture which is the symbol of the Heritage Society
Artists' certificate of "Nativity" authenticity

Complimentary invitations to special events and seminars

Seminary updates and publications, including Luther's flagship publication, Story Magazine
Society of Stewards artwork: "Nativity"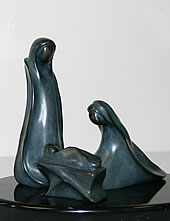 "Nativity" is a work of art intended for permanent display, with no title plate to detract from the beauty of the piece.
"Nativity" was chosen for the Heritage Society at Luther Seminary because it best expresses the common heritage of the three seminaries that most recently merged to create Luther Seminary: Augsburg, Northwestern and Luther Theological Seminaries.
"Nativity," cast in the lost wax process, is a bronze sculpture on a black marble base and is reserved exclusively for members of The Heritage Society at Luther Seminary. It will never be offered for commercial sale. Because of the many steps of handwork involved in the casting and finishing of each piece, no two sculptures will ever be exactly alike.
The artists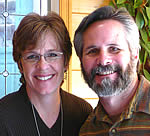 Todd and Nadine Weber reside in the foothills of the Santa Maria Mountains, twenty miles northwest of Prescott, Arizona, in the home built with their own hands. A log cabin nearby serves as their studio where they create a variety of sculpture and jewelry designs. They work primarily in mediums such as bronze, silver, semiprecious stones and exotic hardwoods. Their work is sold in several galleries and commissioned by various organizations throughout the country.